Wisconsin is rich in bioenergy opportunities. From the manure at our dairy farms, to food waste from vegetable canneries and grocery stores, we have the potential to produce as much as 6% of our energy needs from biogas. In addition, our forestry and forest industries provide opportunities to harness wood waste for home, school, and business heating applications.
Wastewater Treatment Plant Biogas Systems
Multi-faceted Benefits of Biogas
Better management of manure on the farms
Cleaner water for everyone
Home-grown, renewable energy for the farm, nearby homes, and businesses
Farm-based biodigesters use raw manure from dairy operations as one principal feedstock. This ensures the raw manure doesn't go on the land, and therefore stays out of the groundwater.  In addition, digesters can utilize other forms of organic wastes to create energy and useful byproducts.
Here's how it works:
Inside the biodigester, bugs eat the manure and organic wastes, leaving a biogas product that is similar to natural gas, and can be used either to produce electricity or to replace natural gas in a pipeline for use in Wisconsin homes and businesses.  Another end product is a solid that can be further processed as bedding for cows, compost, or fertilizer for the land.
Our Work to Advance Bioenergy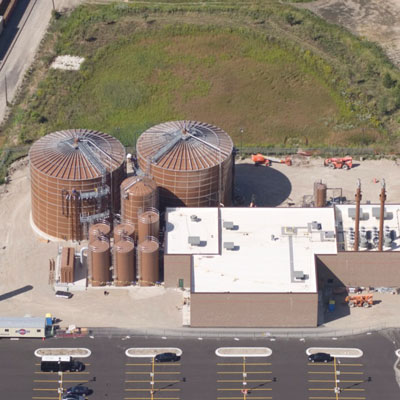 Biodigester Rates
RENEW advocated for special rates that allowed Wisconsin to become the national leader in on-farm digesters with 34 built as of 2015. We continue to advocate for solutions to support the dozens of biodigesters built with these contracts whose rates have now been cut.
Focus on Energy
RENEW advocated for funding through Focus on Energy for biodigesters. These projects are eligible for up to $500,000 in competitive funds. In 2016, RENEW supported the allocation of up to $20 million for a large-scale biodigester. In 2017, $15 million was awarded to the Brown County BC Organics project which will combine manure from nine area farms and food waste products to produce natural gas, improve on-farm manure management, and produce clean water.