On Sunday, May 22, RENEW Wisconsin, with presenting sponsor, Xcel Energy, hosted the 9th Annual "Ride with RENEW" bike ride fundraiser in Eau Claire, WI. Starting at Carson Park, the 16-mile route featured the Chippewa River State Trail and Lakeshore Trail. Over 20 riders enjoyed a chilly spring day pedaling and learning about the innovative renewable energy installations powering Eau Claire, Wisconsin.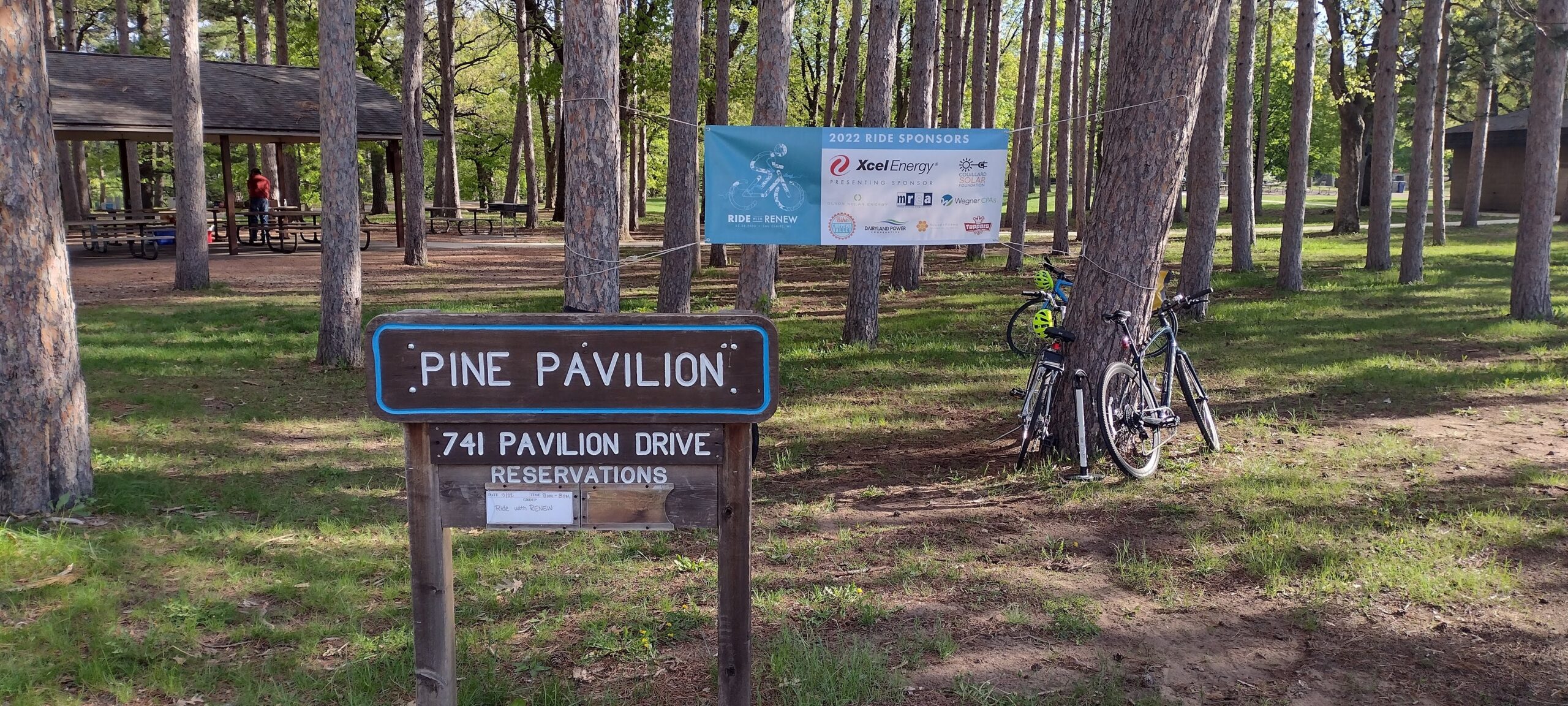 The first stop of the 2022 tour was Solar Forma. Brian Graff showed riders the company's unique solar designs, including E-cacia trees, their signature product. Solar Forma wants to expand its solar designs to include a solar "wave" carport with electric vehicle charging.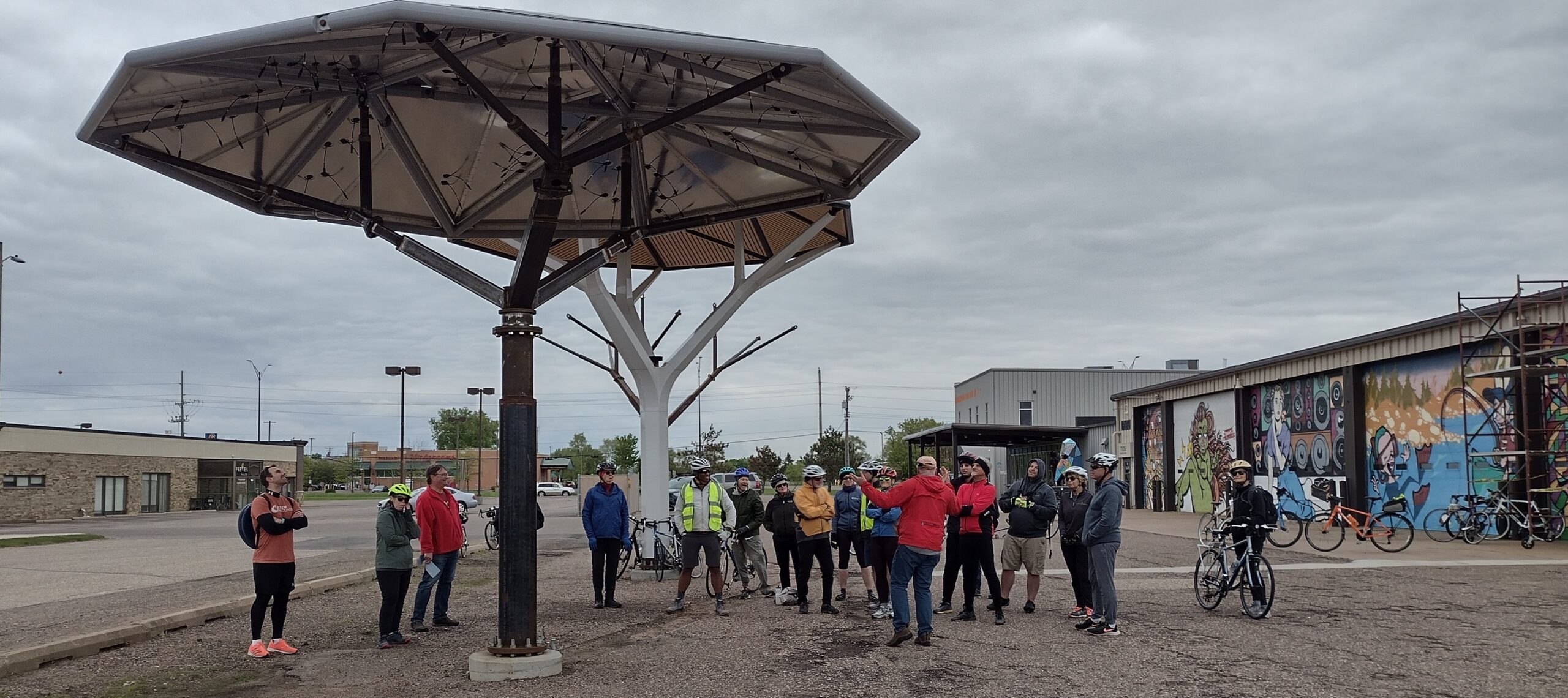 Next, riders visited Xcel Energy's Sky Park Solar Garden. Julie Thoney and Zeus Stark provided an up-close look at the 1MW community solar garden at Sky Park, and riders also learned about Xcel's three other Wisconsin community solar gardens. Xcel was the first investor-owned utility in the country to propose a net-zero carbon goal. They're looking to expand their renewable portfolio in all operating states, including Wisconsin.
The next stop on the ride was Chippewa Valley Technical College (CVTC) Energy Education Center. Adam Wehling and Zeus Stark showed riders a variety of renewable energy generation sources on display, including several solar layouts and multiple small wind turbines, which is the same equipment CVTC uses in their class lessons. Riders also heard from Claire Lindstrom from the Couillard Solar Foundation about their work to make solar more accessible to public schools and mission-based organizations throughout the state. The Couillard Solar Foundation supplied 80 kilowatts of solar panels to CVTC, which provides approximately 40% of the electricity consumed at the Energy Education Center.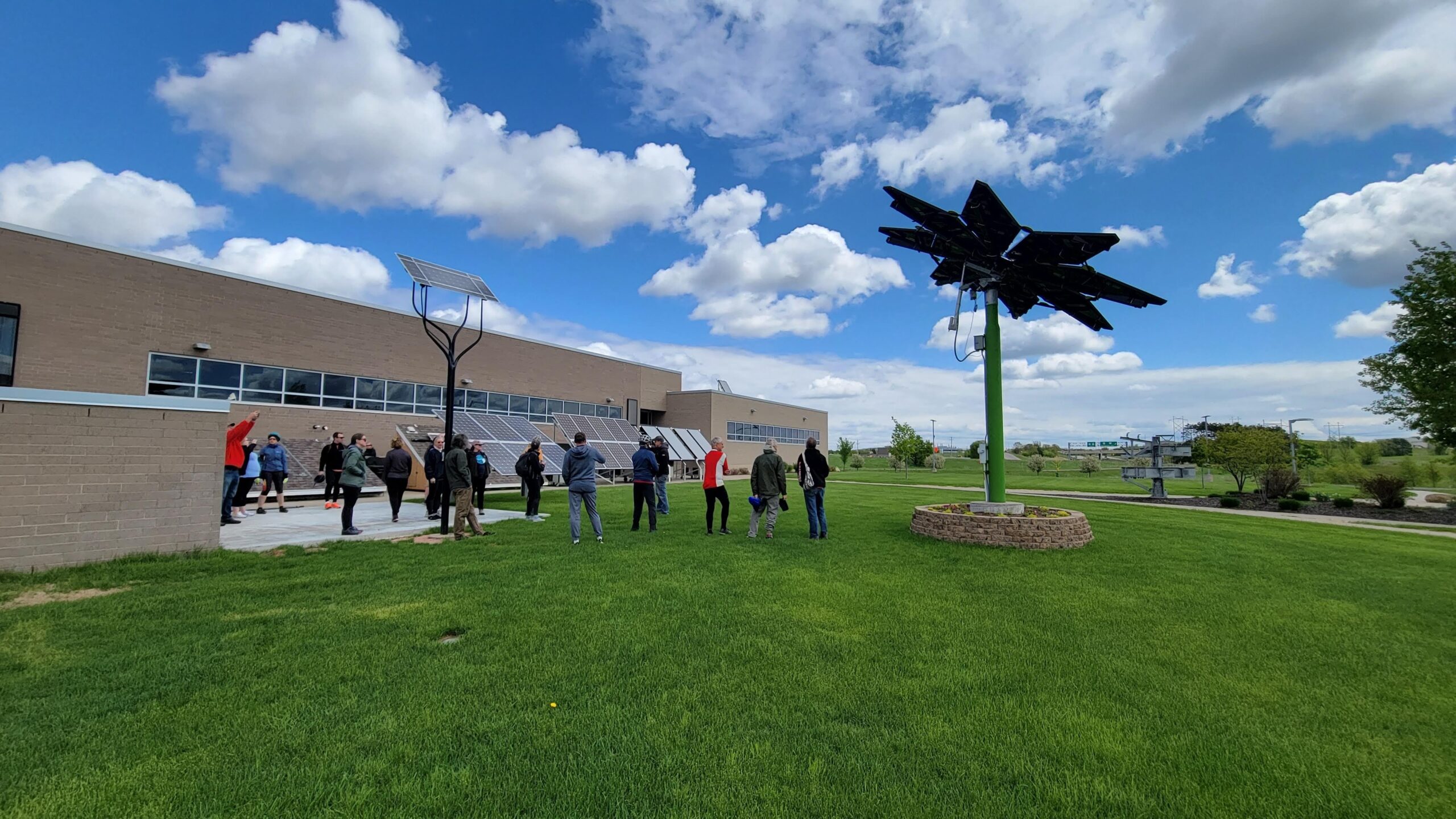 The final stop of the 2022 Ride was the home of long-time friend and former board member of RENEW, Ellen Terwilliger. Over the last decade, Ellen and her husband Steve installed four geothermal wells for heating and 15 kilowatts of solar PV, offsetting around 80% of their energy needs. The property also contains electric-vehicle charging, native prairie grasses, and several rain barrels. The Terwilligers even removed and reinstalled a south-facing rooftop to optimize their solar panels!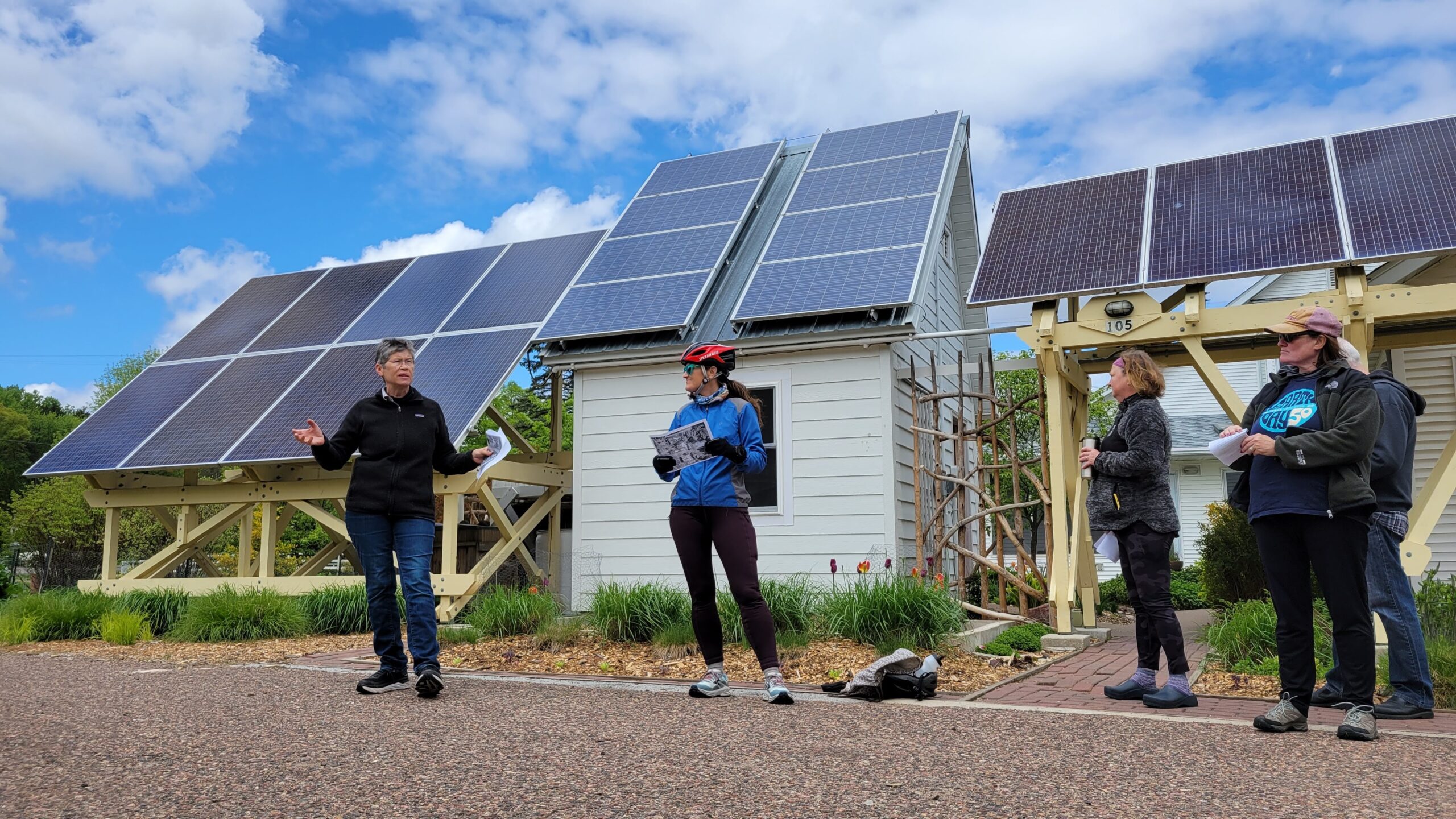 Our 2022 Ride with RENEW ended back at Carson Park with Toppers pizza and a brief address from Jim McDougall discussing his work to install solar on Eau Claire schools. Thanks to Eau Claire, local Ride leader Jeremy Gragert, and all of our riders, donors, and sponsors. Stay tuned for information on our 2023 Ride!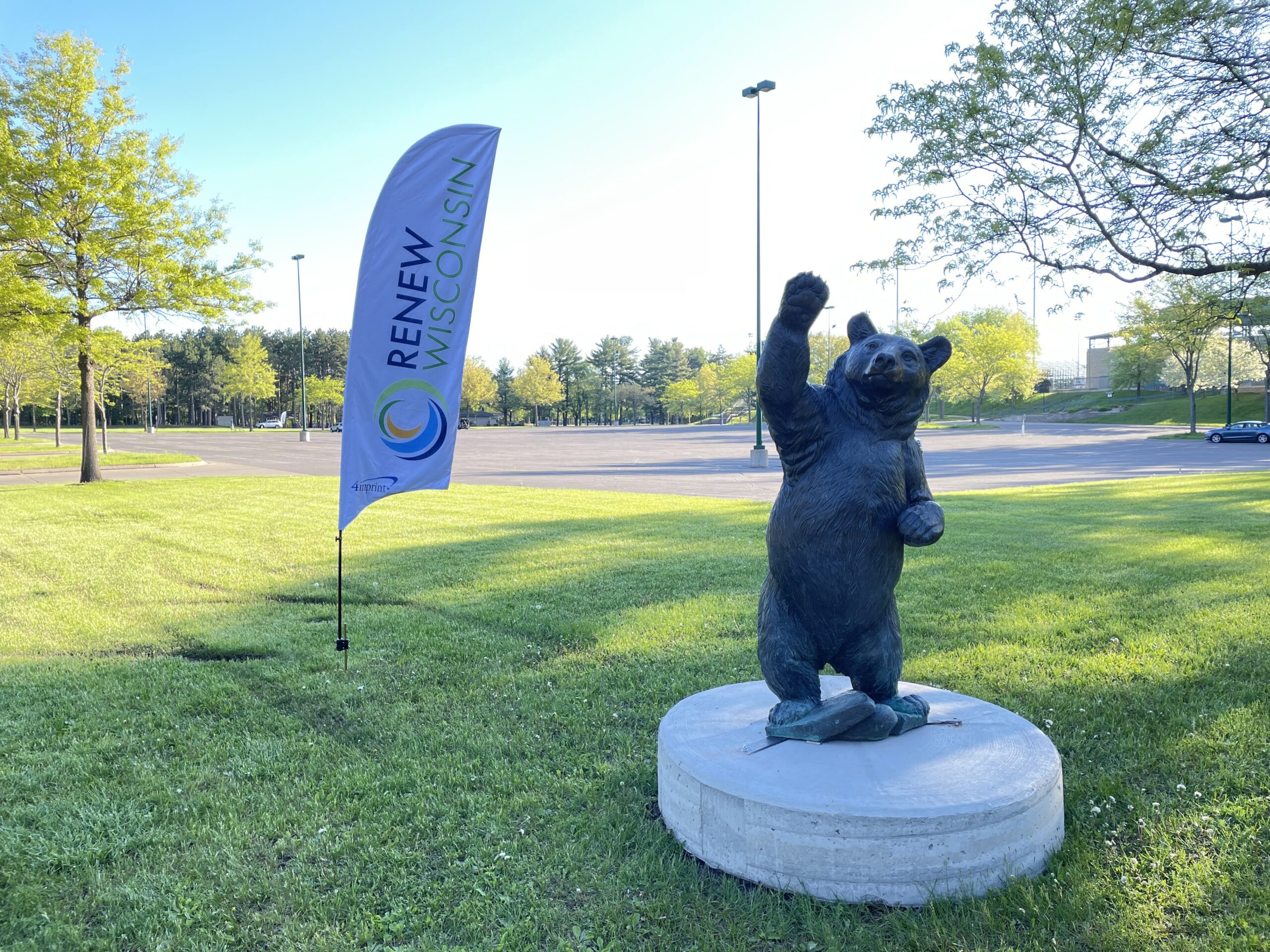 ---
2022 RIDE WITH RENEW SPONSORS