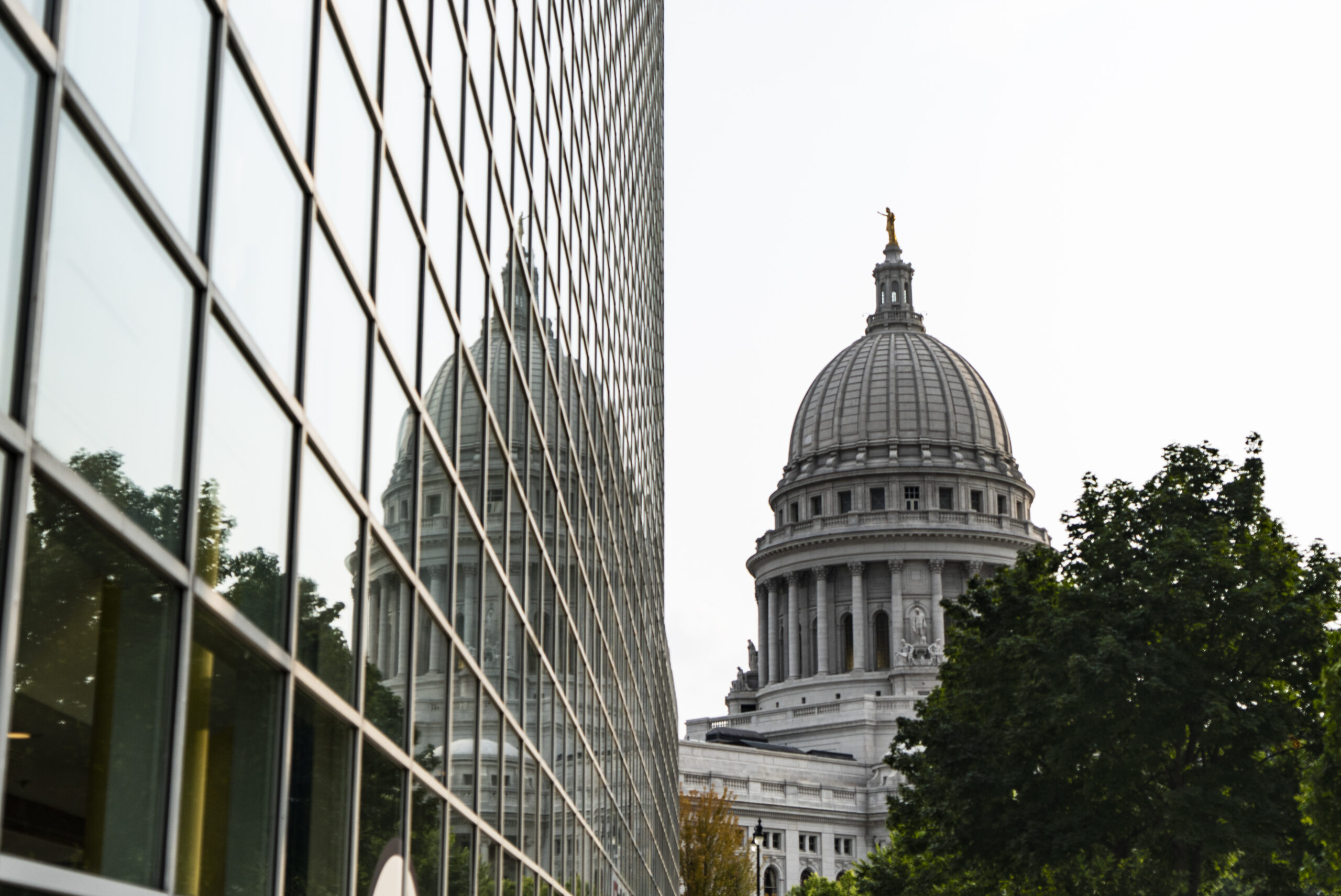 RENEW Wisconsin is monitoring several new bills relating to solar and wind project siting, reforms aimed at the Public Service Commission of Wisconsin (PSCW) and utilities, and a slew of proposals from the Forward on Climate legislative package. We are reviewing these bills to determine our position on these proposals. We are also continuing our work to support EV charging infrastructure and bills that would allow Wisconsin residents to participate in community solar projects.
Bills to Watch
On November 16, Wisconsin Democrats reintroduced their Forward on Climate legislative package. In all the package contains 20 bills, which address issues ranging from job creation to inequality. This includes bills that focus on job training grants, racial disparity impact studies, a funding increase for Focus on Energy, on-bill financing, biodigester planning grants, transportation planning, and changes to the energy building code.
RENEW is also monitoring a group of bills that would create reforms for the Public Service Commission of Wisconsin and state utilities. Some of these bills would impact how utilities notify customers of rate increases, alter procedures for complaints filed with the PSCW, impact the closure of large electric generating facilities such as coal plants, and allow the PSCW and interested parties to learn what public utilities are planning for future energy generation.
A final group of bills under review by RENEW staff would directly impact large-scale solar and wind projects. Some of the potential impacts of these bills include requirements to assess agricultural land for productivity before a project is approved, limit ownership of agricultural or forest land by foreign entities, and require notification of neighboring property owners of projects before they are deemed viable.
RENEW staff is reviewing and monitoring all of these bills and will provide regular updates on their progress.
Electric Vehicle Charging
Better access to charging stations to support the electric vehicle industry is a top priority for RENEW. We continue to support efforts to remove some of the barriers in Wisconsin. Current state law limits private companies' ability to build charging stations by only allowing electric utilities to sell electricity to the public.
RENEW anticipates legislation (likely led by Sen. Howard Marklein) to be introduced this fall to remove some of these barriers.
RENEW is hoping the proposed legislation would allow non-utilities to provide electricity at charging stations by using the national standard of charging by the kilowatt hour rather than by the time it takes to charge.
RENEW staff have been in regular communication with various interested parties and we hope to see movement on this proposal soon.
To support these efforts, we also have preliminary plans to host educational, lobbying, and test-driving electric vehicle events through the fall.
Community Solar
Wisconsin state law limits solar installations to larger utility-built projects and smaller rooftop installations on individual homes or businesses. This leaves a gap in the options available for some Wisconsinites. Allowing community-based projects for individuals to participate in solar energy generation even if they do not own the building or have adequate sun exposure would create more equity as it relates to solar generation.
RENEW Wisconsin is part of a coalition of groups that support community solar projects, along with two bills introduced earlier this year that would allow Wisconsin residents to participate in community solar projects. SB 226 was authored by Sen. Duey Stroebel, and AB 258 was authored by Rep. Scott Krug.
RENEW is encouraging the chairman of the committee, Sen. Julian Bradley, to schedule a hearing in the fall in the Senate Committee on Utilities & Technology.

More than 30 organizations are listed as lobbyists on the proposal, with an almost equal number for and against.

Utility groups have strongly opposed the bills.

Supporters along with RENEW include the Alliance of WI Retailers, NAIOP Commercial Real Estate Association, League of WI Municipalities, WI Property Taxpayer Association, and Fieldworks Power. New supporters continue to join the effort.