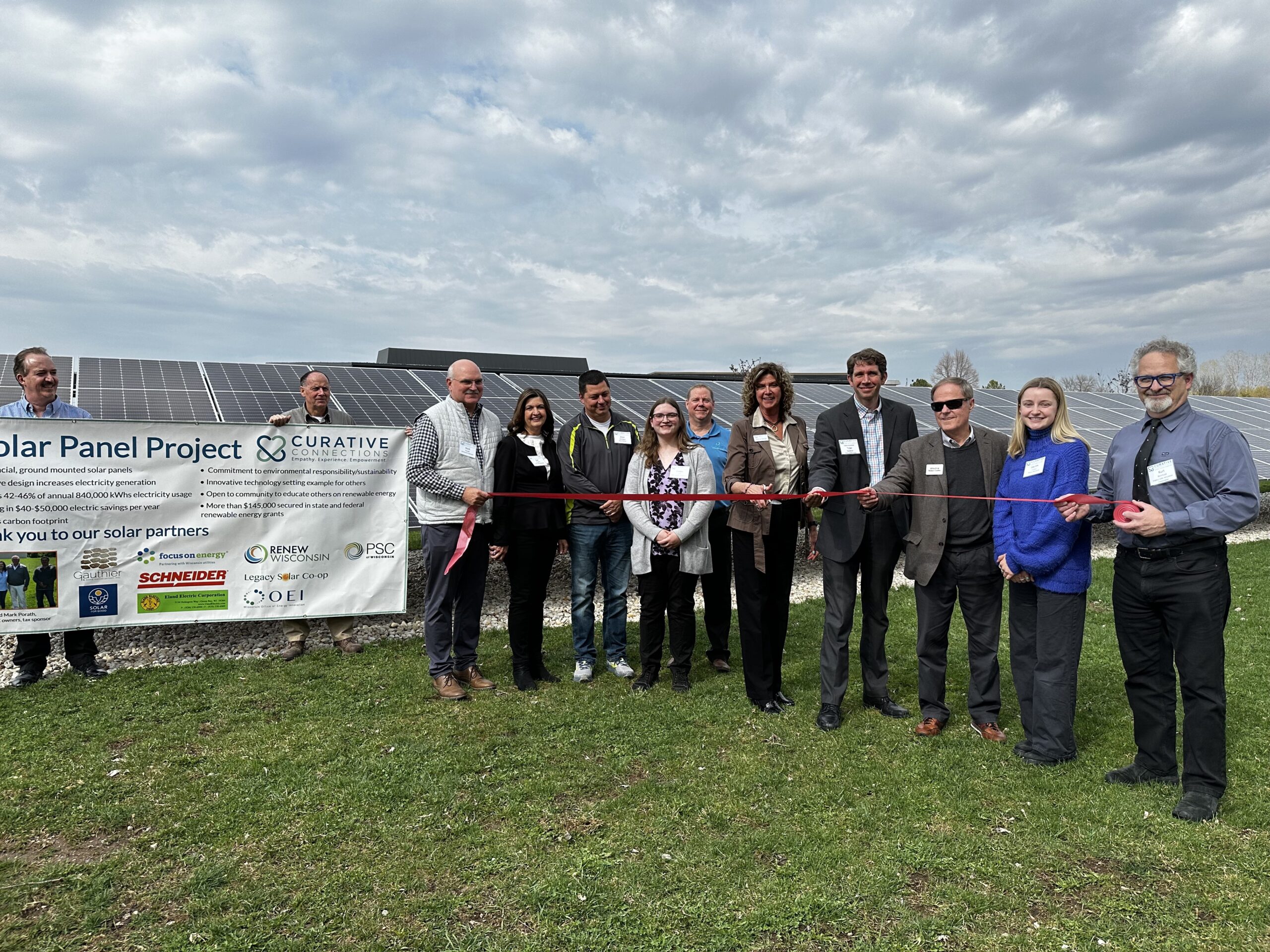 On Thursday, April 20, Curative Connections held a ceremony dedicated to their new 280-kilowatt solar array. Curative Connections aims to help people reach their goals for independence by providing essential services to older adults and those with disabilities.
This solar system was installed by Eland Electric and is projected to offset 42-46% of the organization's electricity usage. "We had a great experience with this project, from design and engineering all the way to commissioning," said Jesse Michalski, Project Manager at Eland Electric. "This project was a little unique in that we had limited space and were trying to maximize the energy output of a solar array, and through the use of bi-facial modules, we were able to achieve a design that fits the customer's goals."
The economic implications of this array for Curative Connections are wide-reaching. The newly installed solar array is projected to bring the organization $50,000 of annual savings. "As a nonprofit, this is critical as we can now redirect these savings to support for our programs and the thousands of members
we serve each year," said Jeanne Stangel, President and CEO of Curative Connections.
This solar installation is momentous as the organization celebrates an impressive milestone. "Curative Connections is proud to cut the ribbon on our solar project as it shines light upon another reason to celebrate our 75th anniversary year," continued Stangel.
The project was funded largely by a $125,000 Office of Energy Innovation grant and financial support from Focus on Energy. Curative Connections also received a $10,000 grant from Solar for Good, a RENEW Wisconsin program run in partnership with the Couillard Solar Foundation.
"This solar project is a testament to the power of partnership between mission-driven nonprofits and clean energy advocates," said Lauren Cohen, Program Coordinator with RENEW Wisconsin. "Solar for Good's success is a direct result of organizations like Curative Connections leading the way towards a more sustainable future for Wisconsin and beyond."
In addition to their grant funding, Curative Connections worked with Legacy Solar Cooperative to partner with a tax sponsor to take advantage of tax credits, which were not yet available to nonprofit organizations at the time of installation.
"We are grateful for the support we received from foundations, federal and state grants, and community partners," continued Stangel. "This is a collaborative effort of a commitment to environmental responsibility and sustainability."
With 75 years of serving the public under their belt, the money saved from this solar installation will allow Curative Connections to continue its mission to ensure that everyone receives the care they deserve. This project demonstrates the organization's commitment to this mission and the environment, which others can look to and hopefully be inspired to embark on a similar path.