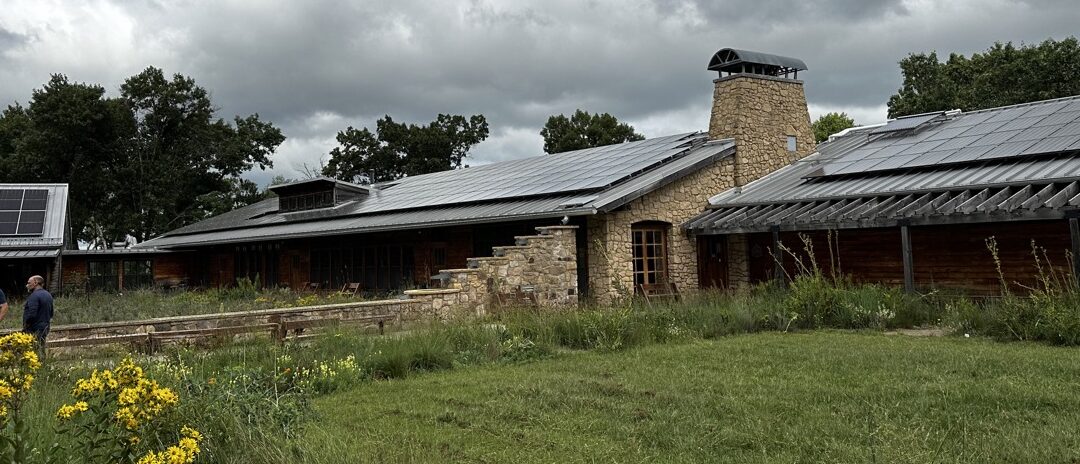 On Saturday, August 26, The Aldo Leopold Foundation Legacy Center celebrated the completion of its newest solar array. Since the conception of the Legacy Center, the Foundation has aimed to achieve what Aldo described as, "The oldest task in human history: to live on a piece of land without spoiling it."
The Aldo Leopold Foundation is a nonprofit conservation organization with a mission of fostering a land ethic through the legacy of Aldo Leopold. As described by him, the land ethic involves recognizing ourselves as "plain members and citizens" of the land community and treating our fellow members with care and respect.
The Foundation's dedication to the land ethic is underscored by its new 90-kilowatt solar installation completed by All Sky Energy. This is the Foundation's second solar installation at the Aldo Leopold Legacy Center, boosting the organization's goal of achieving net-zero. As a complement to the new solar array, the foundation has also installed three electric vehicle charging stations and added two electric trucks to its fleet.
This project was made possible through the collaborative efforts of All Sky Energy, The Couillard Solar Foundation, OneEnergy Renewables, RENEW Wisconsin, and the Wisconsin Public Service Commission. The main source of funding came from a $152,000 Office of Energy Innovation grant and panel grants from OneEnergy Renewables and Solar for Good.
Buddy Huffaker, President and Executive Director of the Aldo Leopold Foundation, highlighted the significance of this endeavor, stating, "Obviously, this project benefits the Leopold Foundation by reducing our expenses, but we are most excited about the opportunity to continue demonstrating a conservation ethic that informs and inspires others to transition to renewable energy and electrification."
This initiative resonates deeply with Aldo Leopold's philosophy of living harmoniously with the land. The Aldo Leopold Foundation aims to lead by example by showcasing how investments in renewable energy promote sustainability while creating a tangible connection between modern living and the land ethic Leopold championed.
With thousands of annual visitors to the Legacy Center, the Aldo Leopold Foundation serves as an example for the broader community. This latest effort to electrify the land ethic has the potential to inspire others to embrace renewable energy solutions and drive rural electrification enhancements.