On Sunday, October 1st, RENEW Wisconsin, with presenting sponsor SunPeak, hosted its 5th annual "Ride with RENEW" bicycle tour of renewable energy projects, with this year's ride taking place in Middleton, WI. All event proceeds supported RENEW Wisconsin's ongoing work to advance renewable energy in Wisconsin.
Check out all the photos on our Facebook photo album!
Our biggest bike event yet, we had seventy-four riders who traveled approximately 25 miles on paved roads and bike paths to visit innovative wind, solar and biogas energy generation facilities in scenic northwest Dane County. Seven seasoned cyclists opted for the extended route of about 40 miles to travel at their own pace.
As a fundraising event, we are proud to announce that we raised over $20,000 from 203 donations (so far)! This amount will be matched with $15,000 from John & Mary Frantz and another $5,000 from a private donor.
Participants got an inside look at some of the area's leading renewable energy projects and enjoyed breakfast, lunch (pizza donated by Glass Nickel Pizza), and beverages (post ride beer donated by Capital Brewery) along the way. They visited with installers and workers who are advancing renewable energy every day, and heard from customers about why clean energy works for their pocketbooks and their businesses.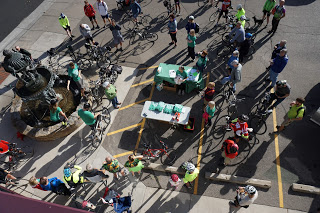 Riders gathered at Sustainable Engineering Group's net-zero solar powered office in downtown Middleton. They checked in and enjoyed an open house hosted by Sustainable Engineering Group staff.
The first stop of the ride was Gundersen Health Systems & Dane County Biodigester. This project converts manure to make enough electricity to power approximately 2,500 homes while keeping manure out of the watershed.
Next, we visited Madison Gas & Electric's Middleton Shared Solar project, a large 500 kilowatt solar project on the roof of the Middleton Operations Center. Subscribers to this pilot shared solar program receive the benefits of locally generated solar power from a centralized solar project.
Presenting sponsor, SunPeak, led a discussion on one of their projects, the PDQ in downtown Middleton. The solar panels installed on this store showcase the market advances of solar alongside traditional fuels.
Riders enjoyed a pizza lunch donated by Glass Nickel Pizza.
After lunch, we rode north to Epic's "Galactic" Wind Farm, featuring six turbines along the rolling hills northwest of Madison which generate enough electricity.
The ride concluded with refreshments at Capital Brewery, also powered by a set of solar panels.
Sponsors of the Event included SunPeak (presenting sponsor), Sustainable Engineering Group, Capital Brewery, City of Middleton, H&H Solar, UW Madison Engineering Professional Development, Summit Credit Union, Wegner CPAs, Full Spectrum Solar, One Energy Renewables, Glass Nickel Pizza, Midwest Solar Power, Madison Solar Consulting, Keyes & Fox, Sustainable Technologies, Open Circle UUF, and Willy Street Co-op.