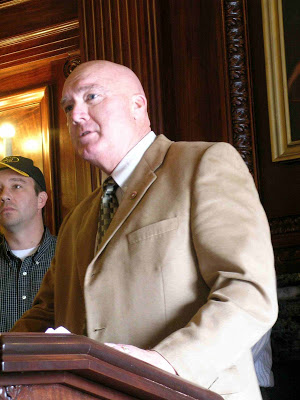 Terry McGowan of the International Union of Operating Engineers Local 139 speaks at the press conference for the introduction of a bill to set uniform siting standards for wind projects in Wisconsin.
From a news release issued by Sen. Jeff Plale, Rep. Jim Soletski, Sen. Randy Hopper, and Rep. Phil Montgomery:
MADISON – A bipartisan coalition of Wisconsin legislators announced that they are introducing legislation that calls for the creation of uniform siting standards for wind energy projects. Senate Bill 185 (SB 185), and its Assembly companion, directs the Public Service Commission (PSC), after public input, including a stakeholder committee, to establish by rule, permitting standards to be applied by local or state government to wind energy installations, regardless of size and location.
"Too many wind projects are victims of delay tactics and other obstructions," Senator Jeff Plale, Chair of the Senate Committee on Commerce, Utilities, Energy, and Rail said. "SB 185 will enhance Wisconsin's economy by protecting and creating "green-collar" jobs; it will attract new investment to our state and support state energy policy. I look forward to working with my colleagues to ensure that we can make Wisconsin more attractive to wind energy and achieve the resulting economic and environmental benefits."
"A sensible wind energy policy will help Wisconsin harness the jobs and growth opportunities that green power provides," stated Representative Jim Soletski, Chair of the Assembly Energy and Utilities Committee. "I am excited to be working with a bipartisan group of legislators from diverse regions of the state to remove the obstacles to more development of wind power in Wisconsin. By advancing this legislation, Wisconsin utilities can move toward meeting their obligation to generate clean energy and much needed jobs can be created for our workers."
"We can't build a 21st century energy infrastructure by digging in our heels," Senator Randy Hopper said. "This legislation will ensure that interested parties from all over our state can take part in developing the Public Service Commission's guidelines."
"Wind power is job-creating power," according to Representative Phil Montgomery. "A fair and uniform state standard for siting wind developments will create an environment of investment in our state while moving us closer to our green energy goals."
In addition to RENEW, the following organizations issued statements of support for Senate Bill 185: CREWE, Clean Wisconsin, Citizens Utility Board, Customers First!, Renewegy, Wind Capital Group, WPPI/Municipal Electric Utilities.