COAUTHORS: Michael Vickerman and Lauren Reeg
Wisconsin's distributed generation (DG) renewable energy market lags behind comparable states.[1]  As seen in other states, DG helps diverse groups of individuals and organizations, including businesses, residents, renewable energy customers, and future renewable energy customers, gain access to renewable energy and create a more fair and navigable market.
Whether it takes the form of behind-the-meter generators powering individual customers or larger projects feeding power directly into the distribution grid, DG is a vitally important segment of the renewable energy landscape. Customer investments drive these installations with benefits extending to Wisconsin businesses, residences, governments, nonprofits, and their communities.  DG clean energy investments help spur local economic investment, support clean energy jobs, and save Wisconsin money that otherwise would have been spent on importing fossil fuels.
It has long been RENEW's view that a more fair, clear, and consistent regulatory environment could strengthen the DG market and accelerate the transition to renewable energy in Wisconsin.
In June 2020 the Public Service Commission of Wisconsin (PSC) convened an investigative docket" (5-EI-157) to identify regulatory barriers that effectively put a tight lid on Wisconsin's DG market, especially customer-sited DG.
This investigation is structured to encourage input and recommendations from organizations and entities that support small-scale DG. RENEW has assembled an expert legal and technical team for this docket—Tim Lindl and Melissa Birchard of Keyes and Fox, and Justin Barnes of EQ Research.  We invite you to review the legal and policy analysis we provided to the PSC in August 2020 and in January 2021.[2]  A coalition of organizations (Clean Energy Advocates) joined our comments to the PSC, demonstrating broad support for an improved DG market. This ongoing investigation is the best opportunity we've had in more than 10 years to advance renewably powered DG before the PSC.
The success of this campaign will strengthen and expand the renewable DG market in Wisconsin. If you support this work, please consider a donation to RENEW today. Together we can champion renewable energy growth in Wisconsin and we are poised to make significant progress in 2021. Join us today!
Wisconsin has fewer net metering customers than comparable states
Net metering customers represent an important segment of the renewable energy market, however, Wisconsin is falling behind. In the last four years, net metered customers in Wisconsin have grown by only 0.11%, well below the increases seen elsewhere in other states since 2015.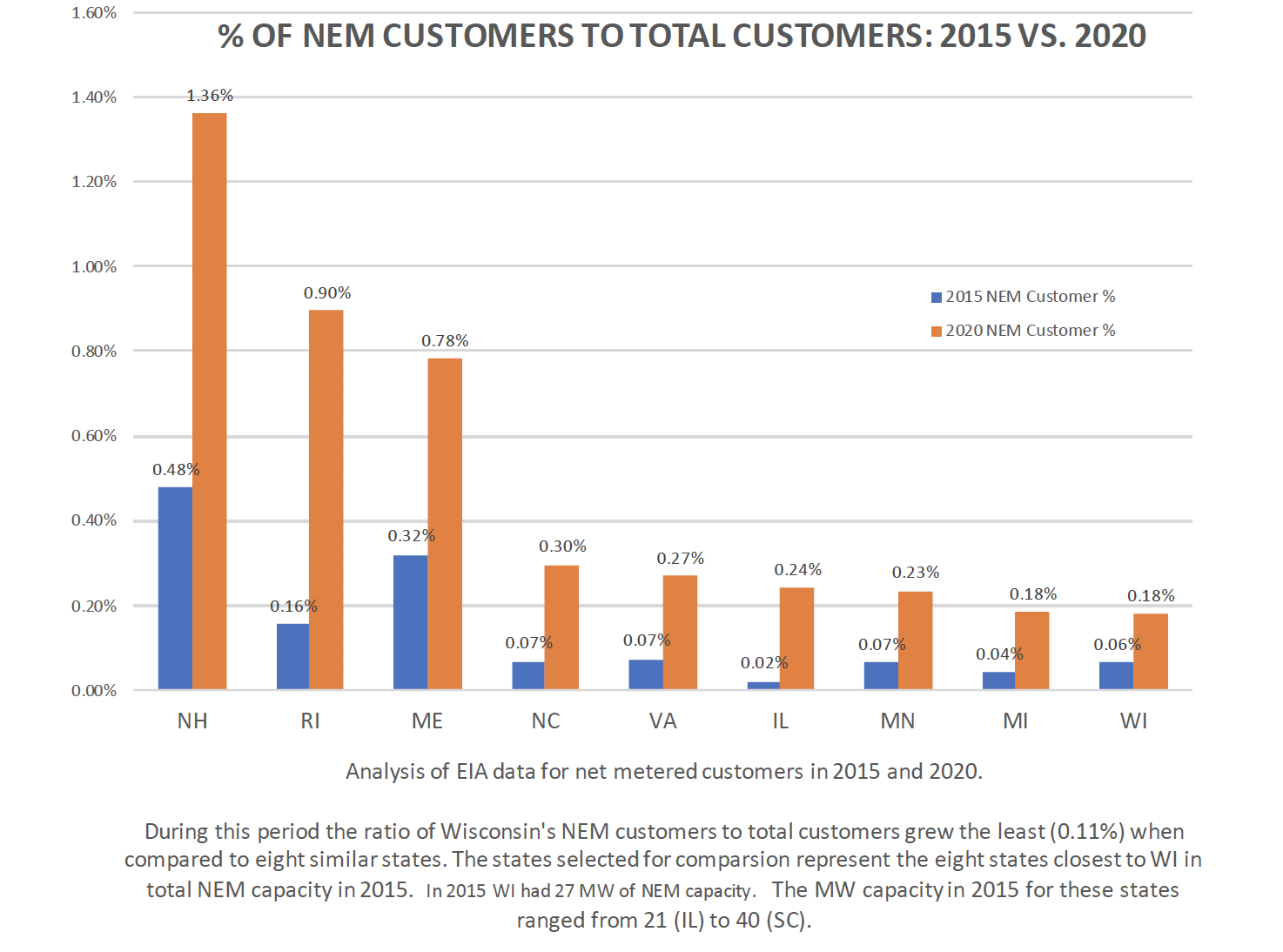 Fair and clear distributed generation policies would grow the renewable energy market in Wisconsin
RENEW Wisconsin aims to enlarge the market share for non-utility-owned renewable DG, including both self-supply and grid-supply projects. In furtherance of that goal, we've developed a number of principles that should inform decisions rendered in the DG docket. These include:
Ensuring developer access to standard offer contracts that have terms for reasonable compensation.
Giving developers insight into system and utility resource needs to help them target their planned investments.
Provide larger energy users with better and less restrictive opportunities for larger self-supply resources.
Standardize and improve net metering rates for all customers across Investor-owned Utilities (IOUs).
In addition to behind-the-meter systems, RENEW has also set forth a path for front-of-meter renewable generation projects up to 20MW. These types of projects should be eligible for 20-year standard offer contracts that are pegged to the same methodologies that utilities use when assigning value to their own generation projects. Leveling the playing field for compensating solar is essential to increasing customer investment opportunities, and expanding the solar workforce.
RENEW is optimistic that by the end of the docket the PSC will land on several beneficial policy changes for promoting renewable DG. These policy changes could be taken up later this year through the anticipated utility rate case filings. Should events unfold along these lines, solar developers and customers stand ready to benefit from a more fair, clear, and consistent renewable energy market.
Join RENEW's campaign to advance renewable distributed generation in Wisconsin
Since 1991, RENEW has been the state's preeminent advocate for renewable energy. At the macro scale, solar and wind can outcompete fossil fuels on cost and environmental performance. For the first time in more than a decade, we have an opportunity in Wisconsin to broaden the clean energy transition underway to benefit all customers who place a value in a healthy energy economy. A clear, fair and forward-looking regulatory environment will be crucial to spreading renewable energy across all sectors of society. RENEW is bringing together the leadership and expertise necessary to undo the regulatory barriers that have held renewable DG back, and to replace them with policies to make renewable DG more accessible, affordable, and plentiful across Wisconsin. We hope you will join us in this work by donating today. 2021 promises to be an exciting year!
[1] RENEW evaluated eight states closest to Wisconsin in terms of cumulative Net Energy Metering (NEM) capacity at the end of 2015, i.e., the four states immediately above and below Wisconsin in EIA data listing NEM capacity by state.   The eight states closest to WI in NEM capacity in 2015 included NH, RI, ME, NC, VA, IL, MN, and MI. The 2020 data is based on NEM capacity through April 2020. The percentage of total customers uses 2018 total state customer counts for both calculations. Note that Wisconsin has fallen behind states it had previously led.  See bar graph for more information.
[2] In the most recent comments filed by Clean Energy Advocates, we looked at this year's PSC calendar to assess how our recommended actions can make their way into regulatory policy. The DG docket now underway is well-timed in that we expect every Class A investor-owned utility in Wisconsin to file for new rates in 2021.