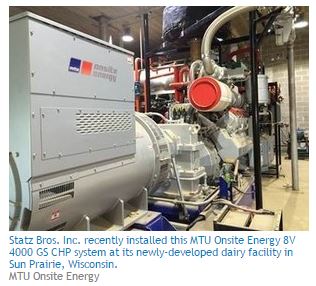 The Wisconsin State Journal wrote
an article
featuring Sun Prairie-based Statz Brothers, the host of this year's Farm Technology Days, detailing their expansion project that includes a second manure digester, making it one of the state's most sustainable dairy operations. They are also becoming one of the most technologically advanced with the addition of a state-of-the-art milking parlor and feed operation and three freestall barns that can each house 800 cows. They have the look of a bovine day spa with high-quality bedding created by the digesters, overhead fans and cool-water misters.
Further in the article, there is a discussion on the economics of generating electricity from manure. The reporter was confused about the terminology used in pricing power. Here is the translation: Alliant pays Statz Bros. 10 cents/kilowatt-hour for electricity produced from the first digester. However, it offered Statz only three cents/kilowatt-hour for power from the second biodigester, which is why Alliant is using all the power from the second biodigester in house.
Also from the article: "Richard [Statz] said he plans to mention that to Gov. Scott Walker, who is expected to make an appearance at Farm Tech Days. "Farmers want to be good stewards of the environment but we can't go broke doing it," Richard said."
Read the full article here, and also see this article from Biomass Magazine for more details on the second biodigester at the Statz Brothers operation.
IF YOU GO
Wisconsin Farm Technology Days runs
Tuesday
through
Thursday
at 5966 Town Hall Dr., Sun Prairie, WI. 53590. Event hours are
9 a.m. to 5 p.m.
each day. Admission is $6 per person. Youth under 12 are admitted free. Parking is free. For traffic and parking information, visit
www.dancecofarmtech.com
.