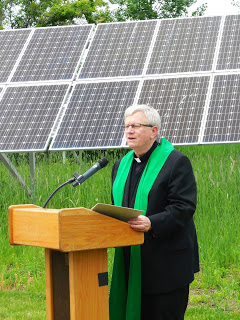 Bishop David Ricken
100 kW Array Is Open to the Public
On the same day–June 18, 2015–the Vatican released Pope Francis's encyclical on climate change, more than 25 people gathered at Sisters of St. Francis of the Holy Cross in Green Bay and took part in dedicating their year-old, 100-kilowatt solar installation. Bishop David Ricken presided over the ceremony, which was highlighted by the singing of "Canticle of the Sun" and the sprinkling of holy water on the panels.
Designed and built by Green Bay-based Eland Electric, the Sisters' 416-panel array is situated at the edge of a prairie garden about 400 feet from the Motherhouse. A circular walking path cuts a sinuous path through the wildflowers adjacent to the array. Along the path are seven metal plaques explaining how solar generation works and discussing the reasons behind the Sisters' decision to own one of the largest solar arrays in northeast Wisconsin.
Information on the installation's benefits and performance to date is accessible at the Sisters' web site http://www.gbfranciscans.org/justice–peace/solar-energy-tour. The array has generated 155 megawatt-hours of electricity since being energized in June 2014. On a sunny summer day, the system should produce more than 700 kilowatt-hours of electricity. It is sized to supply about 30% of the electricity used at the Motherhouse each year.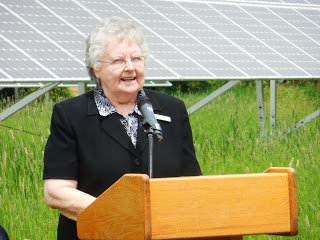 Sister Donna Koch
Many donors contributed to this project, which is dedicated to the memory of anchor donors Evaleen and Joseph Neufeld. A significant cash award from Focus on Energy played a critical part in funding this installation. The Sisters expect to fully recoup their investment in 10 years.The array is open to self-guided tours weekdays from May to October. Hours are 10:00 AM to 3:00 PM. Groups of four or less do not need an appointment to visit the array. However, groups of five or more, including school groups, must call ahead for an appointment.