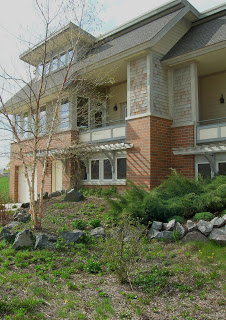 From a media release issued by Fields Neighborhood:
Interested in finding out what it would be like to life the green life you have imagined? Come experience living green at Fields Neighborhood's Live a Green Life Day on Saturday, July 19, 11:00 a.m. -3:00 p.m.

All are welcome to tour Fields Neighborhood's award-winning green built housing and other innovative environmental solutions while talking with the visionary founder and architects.

Come dwell in possibility as you walk the miles of nature preserve trails, enjoy the open expanse of land on a hayride or tour the farm at neighboring Michael Fields Agricultural Institute, where you can pick your own flowers or produce. Discover straw bale building as demonstrated by renowned straw bale expert Michael Morgan and learn about biodynamic gardening with veteran garden expert Janet Gamble.

Come to relax. Come to breathe. Located at the corner of South and West Streets, this vibrant farming community in East Troy, Wisconsin, is nestled in the rolling hills of Southeast Wisconsin 30 minutes from Milwaukee and 90 minutes from Chicago.

"When we saw the destructive nature of most suburban sprawl, we wanted to introduce people to a type of community and way of living that was in tune with nature. This community serves as a model and educational reference on sustainability with award-winning green built cluster housing, community gardens, natural tranquility and open spaces in permanent land trusts," said Fields Neighborhood visionary Christopher Mann.