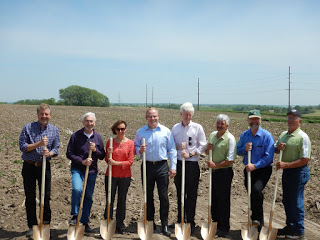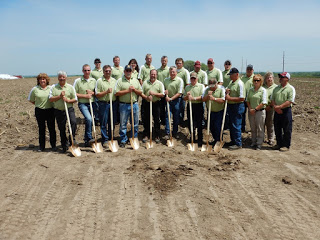 Representatives from Dairyland Power Cooperative, Richland Electric Cooperative, SoCore Energy and others gathered May 23rd on a sun-baked Richland County crop field
to celebrate a breakthrough moment for utility-scale solar energy in
Wisconsin. The symbol for this breakthrough is a 600 kilowatt (AC) solar
array that will, when completed, supply 500 kW of electricity to
Dairyland Power and 100 kW directly to Richland Electric under a 25 year
contract.
The third participant in the groundbreaking ceremony, Chicago-based SoCore Energy, will build and own the Richland solar station as well as 10 others across western Wisconsin. La Crosse-based Dairyland Power and its host cooperatives will purchase the entire output from SoCore's 11 arrays, which will total more than 14 megawatts.
Highlighting the course change that Dairyland and its member cooperatives are committed to, every Richland Electric employee present at the ceremony wore green shirts emblazoned with "Transition Energy." This fact sheet contains more details on Richland's Transition Energy initiative.
Presiding over the ceremony were Barb Nick, Dairyland Power's CEO, and Shannon Clark, Richland Electric's general manager. Both speakers praised solar power's emergence as a clean, cost-effective, and locally available source of energy that complements the western Wisconsin landscape. Consisting of nearly 2,400 panels, SoCore's array will occupy about one-half of an eight-acre parcel next to a Dairyland substation alongside State Highway 56.
[RENEW note: Barb Nick will be the keynote speaker at RENEW's Energy Policy Summit set for January 2017.]
At the groundbreaking, Richland's Clark unveiled details of the shared solar component to the project, which it calls the Ash Ridge Community Solar Project. Nearly 400 310-watt panels will be dedicated to Richland's shared solar service, which is available to all of the cooperative's 3,500 owner-members. The one-time subscription fee per panel is $699. The per-kilowatt- hour credit to subscribers will equal the cooperative's retail energy rate.
Also participating in the groundbreaking were State Senator Jennifer Shilling, and State Assembly members Ed Brooks and Lee Nerison. WXOW-TV, Channel 19 in La Crosse, broadcast a segment on the groundbreaking that evening and aired a lengthier segment on solar energy's breakthrough moment the following morning.