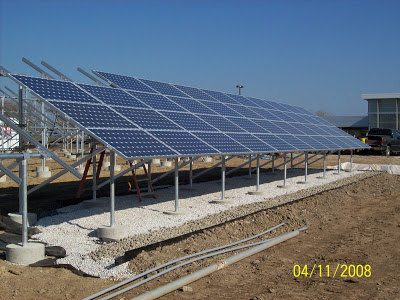 From a news release issued by Venture Electronics:
Venture recently finished the installation of a 250 kW solar array at the Johnson Controls Headquarters in Glendale, WI. This massive solar array is currently the largest ground mounted solar field in Wisconsin. The largest roof mount array at the GE Waukesha facility also was installed by Venture Electric.
"The Johnson Controls job was quite a project. It took a total team effort to get this array built on time. It proves that solar energy isn't just for the Sun Belt," said Venture Electric's project manager Jim Seefeldt. Venture's crew battled sub-zero temperatures to erect an intricate maze of piping that created the framework to support the 1452 solar panels. "Each panel had to be at exactly 30 degree for optimal collection of solar energy. It's like a massive erector set that makes electricity," said Electrician Foreman Marty Schultz.
A single solar panel generates approximately 33 volts DC (direct current). Each panel is combined with other panels until it reaches 480 volts DC. This DC voltage is then converted to AC (alternating current) thru an inverter. AC is used in virtually all homes in the United States. The inverter takes this converted voltage and places it back on the power grid for use by Johnson Controls and its neighbors.
The installation of these solar arrays requires a new skill set for traditional electrical contractors. "It requires electricians to abide by codes a lot of electrical contractors don't use every day. I took it as a personal challenge (to learn the codes). It's a lot of fun to be part of a new industry," said Schultz
Venture Electric is excited about the growth of photovoltaic in Wisconsin. "It (PV) is the future of electrical generation and we are proud to be part of it," said Jeffrey Robertson President of Venture Electric. "With the current administration's commitment to "green technology" I see this as a real growth area. Photovoltaic and wind power are definitely here to stay."