Will Dane County see its first community solar project? That all depends on the Public Service Commission's decision on Madison Gas & Electric's application to build a 500 kilowatt array on a brand new building owned by the City of Middleton. The PSC will decide tomorrow, March 11.
Below is an article from today's Isthmus written by Cara Lombardo on the proposed MG&E project.
Keep on the sunny side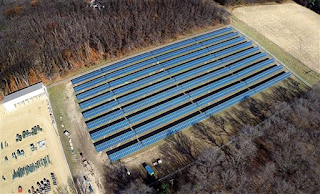 Eau Claire Electric Cooperative 2015
872 kW Community Solar Installation
Adam Gusse, vice president of H&H Solar in Madison, hopes his employees can start putting solar panels on the roof of Middleton's Municipal Operations Center this June. Construction would take a month and a half and result in a solar panel array that would provide 500 kilowatts of power to up to 250 homes currently served by Madison Gas and Electric.
The project just needs approval from the Public Service Commission.
MGE expects the PSC to rule on its proposal for a solar energy pilot program by the end of the month. While community solar projects have cropped up across the state, MGE's project would not only be the first in Dane County but also the first south of the Wisconsin Dells.
Bradley Klein, an attorney at the Environmental Law and Policy Center in Chicago, says Wisconsin has lagged neighboring states when it comes to adopting solar energy. Minnesota, in particular, is already operating community solar projects on a large scale.
"In Wisconsin, for one reason or another, it's been hard to get the commission excited about this in the way that we're seeing in many other states across the country," he says.
But Klein says the MGE proposal is "a good sign" for the state, and that creating strong, stable policy to help the market grow should be a priority.
Few utilities were prepared to invest in solar energy until the price dropped by 60% over the past four years, which is driving utilities to consider owning solar themselves.
Michael Vickerman, program and policy director at RENEW Wisconsin, an organization that advocates for renewable energy, says MGE is very interested in solar energy. "What they would really like to do is just start building solar," he says. "But right now, the PSC's position is, 'Utilities don't need more generating capacity.' If there's no need for these arrays, then the next thing they'd look at is, if a utility goes ahead and builds them, will this add costs to other ratepayers? That's the lens through which they look at these very modest proposals from investor-owned utilities."
RENEW Wisconsin commends electric providers who are trying to offer a choice despite what Vickerman calls a "vacuum of policy" in Wisconsin with respect to the environmental and economic benefits of solar energy. Because the benefits haven't received proper consideration, he says, people who want solar energy will have to pay a little more, at least initially.
Community solar allows customers to source solar energy from centralized solar panel arrays instead of having to install panels on their homes. More than half of homes are unfit for solar panels, either because the roof is shaded or not properly oriented, and community solar allows for much larger arrays.
Customers who choose to participate in community solar arrangements typically pay an initial subscription fee, which can be a few thousand dollars depending on the investment size, to fund construction. Each month, the project's energy output is measured, and customers receive reductions on their bills based on the amount of energy generated from their shares of the array. It usually takes more than 10 years for monthly discounts to cover the initial investment. But for many, it's an easy way to support clean energy.
MGE's proposed project is slightly different: Instead of selling shares of the array, MGE would own it and sell customers shares of the array's output. Under this arrangement, smaller investments would be possible, and upfront costs would be significantly lower, around $380 for an average household subscription of 2 kilowatts.
Participants would pay a level rate of $0.12 per kilowatt-hour for energy produced from the panels; the default rate is around $0.095 per kilowatt-hour. However, the solar rate would be locked in for 25 years.
Eight community solar projects currently exist in the state, six of which are rural co-ops not regulated by the PSC. Dairyland Power Cooperative, which is based in La Crosse, and Xcel Energy have both announced plans for solar projects that would nearly double the capacity of solar energy in the state.
Gusse says the project, if approved, will build on the growth of solar energy in the state and generate even more interest: "It will be exciting to see if it gets through the approval process."