More information
Tyler
Huebner, Executive Director
608.255.4044
x 1
Keynotes and Agenda Set for January Renewable Energy Policy Summit
Event Aims to Unlock the
Clean Energy Transition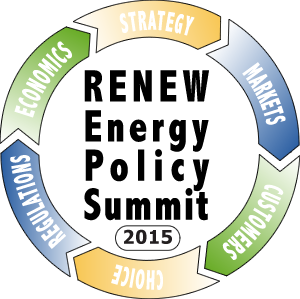 RENEW Wisconsin will host
its fourth annual Renewable Energy Policy Summit on Friday, January 9th, 2015
at UW-Madison's Union South. The theme of the event, "Unlocking the Clean
Energy Transition," will highlight the importance of renewable energy to
Wisconsin's economy. The early-bird registration deadline is Saturday, December
20th.
The event will feature two
keynote speakers. They are:
Brad Klein

, Senior Attorney at the Environmental Law &
Policy Center, will kick off this year's program. Brad will cover the recently
concluded utility rate cases, and the Iowa Supreme Court ruling in 2014 which
allowed third-party financing of solar.
Jigar Shah

, President of Generate Capital and founder of
SunEdison, will deliver the afternoon address.

Widely known as a clean energy visionary, Jigar
will offer his perspective on the emerging opportunities for powering the
economy of the future with clean energy's impact on the economy.
Between the opening and
closing keynotes, panelists and presenters will emphasize the economic and
business opportunities for renewable energy, highlighting new planning initiatives,
projects and anticipated regulatory changes. These include:
A morning panel of state and local policymakers will discuss
targeted efforts to advance renewable energy options as state energy policy
evolves. The panel will feature Representative Chris Taylor (D-78 Madison) and Matt
Howard, Sustainability Director for the City of Milwaukee. Additional legislators and local officials
have been invited.
A lunchtime presentation on Vernon Electric
Cooperative's trail-blazing community solar installation, located alongside its
headquarters in Westby.
Four afternoon presentations examining scenarios for
expanding renewable energy market share:
—
What's Next for Solar (Matt Neumann, owner, Pewaukee-based
SunVest Solar)
—
Bioenergy and Energy Independence (Jeff Rich, director
of the Envision energy initiative for La Crosse-based Gundersen Health System)
—
Big Vision for Wisconsin's Renewable Energy (Jane
Elder, executive director of Wisconsin Academy of Science, Arts, and Letters)
–Renewable Energy for the Clean Power Plan (Gary
Radloff, Director, Midwest Energy Power Analysis, UW Energy Institute)
Following the afternoon
keynote, an awards ceremony will recognize the most noteworthy installations
energized in 2014 and honor Wisconsin leaders in renewable energy.
RENEW Wisconsin's
Executive Director Tyler Huebner says, "We chose this year's theme to highlight
the tremendous economic development potential for Wisconsin from harvesting
more of its own home-grown energy sources, and contrast it to the current
uphill battle many renewable energy businesses currently face in this
state."
The early-bird deadline
for registration is Saturday, December 20th. Early-bird rates are $85 for
Members of RENEW Wisconsin and $110 for non-members, and rates will go to $95
and $125 respectively after the deadline. The rate for government employees is
$85 and for students is $35; these two rates won't change with the deadline.
Membership with RENEW starts at $35 for individuals and $200 for businesses and
organizations.
RENEW
Wisconsin leads and accelerates the transformation to Wisconsin's renewable
energy future through advocacy, education, and collaboration.
More information on RENEW's Web site
at www.renewwisconsin.org.