Frm an article by Ron Seely in the Wisconsin State Journal:
A small wood burner helps fire the boiler
to
heat the Barron, Wiscosnin schools.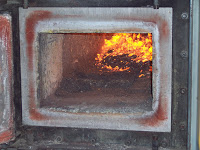 From smoking piles of wood chips in the countryside to dust on kitchen counters in Cassville, the difficulties posed by the conversion of the E.J. Stoneman Electrical Station in Grant County to burn wood instead of coal have challenged both village residents and plant engineers.
But the adventures and misadventures of the conversion stand as an informative and cautionary tale of what may lie ahead as Wisconsin and the rest of the country struggle to find alternative renewable fuels to help wean us from dirtier, nonrenewable combustibles such as coal.
Even so, Rich Nelson, plant manager, is more convinced than ever that the plant, one of just a few in the country that burn only wood, represents a future that will see much less dependence on nonrenewable fuels. After all, he said, it makes perfect sense to be turning demolished buildings in Milwaukee into power for more than 28,000 homes in the Cassville area.
"If we weren't here," Nelson said, "then all that construction material would be going into a landfill."
The 60-year-old power plant, which rises next to the Mississippi River, was converted last year by Michigan's DTE Energies, which has owned the plant since 2008. Its two boilers are now heated by wood rather than coal, a process known in the trade as "repowering."
The transition has had its rough spots. Nearby residents have complained about problems such as ash on their window sills and kitchen counters, and wood chip piles stored in quarries that spontaneously combust and fill scenic valleys with blue haze.
"It's frustrating sometimes," Nelson said. "I think the expectation was that we'd push a button and then everybody's feet would be up on their desks and we'd be making power."