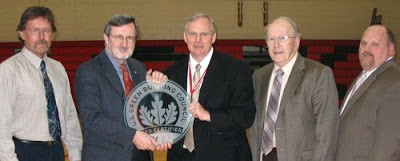 From left: Steve Rubenzer of SDS Architect, Congressman David Obey, District Administrator Rick Palmer and School Board President Robert Clifton of Luck School District, Charlie Schneider of Focus on Energy
From a news release issued by Focus on Energy:
Focus on Energy, Wisconsin's energy efficiency and renewable energy initiative, presented Luck School District in Luck, Wis. with a plaque in recognition of earning the United States Green Building Council's Leadership in Energy and Environmental Design (LEED) certification on Friday, March 13. U.S. Congressman David Obey was on-hand during the presentation.
Luck School District is the second school in Wisconsin to receive a LEED certification and achieve this prestigious green building standard on an existing building. LEED standards address whole building maintenance issues including chemicals, energy and water efficiency performance, indoor air quality and recycling programs, among others standards to maximize operational efficiency and minimize environmental impacts.
"These efforts have saved money, reduced energy use and created a cleaner environment," said Congressman Obey. "I applaud Luck School District for providing the best education that comes from leading by example."
With the help of Focus on Energy's expertise and more than $120,000 in cash incentives, Luck School District has saved more than 495,000 kilowatt-hours of electricity and 25,000 therms of natural gas-enough energy to power 75 homes for a year. The district will also save more than $77,000 in energy costs annually. Luck School District's numerous accomplishments to earn LEED certification include:
+ A $2.1 million upgrade to its heating and cooling system.
+ Received a Department of Natural Resources grant to help implement an advanced recycling program.
+ Started a "green cleaning" program.
+ Provided continuing education to teachers though the Focus sponsored K-12 Energy Education Program (KEEP).
+ Kept students and teachers from the K-12 district actively involved with projects and monitoring success.