More Information:
Katie Crawley, Mayor's Office
Katherine
Klausing, RENEW Wisconsin
April 24, 2017 – Madison. Today the Cities of Madison and Middleton
announced the launch of the MadiSUN Solar Group Buy program, a collaborative
program that helps residents easily and affordably invest in solar electric
systems on their homes. The announcement continues the steady stream of
renewable energy commitments and solar projects announced in Wisconsin, and
follows 2016's successful solar group buy program—the largest in Wisconsin to
date.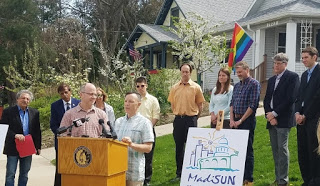 Jay Edgar and Josh Feyen participated in the
2016 MadiSUN Group Buy.
The MadiSUN Solar
Group Buy program will enable Madison and Middleton residents to "go solar"
together. Through the group buy program, a team of community members
requests offers from solar companies across the region. The program then
pre-qualifies a price and service provider to make it as easy as possible for
people to join the program. The City's investment in marketing and
competitive bidding will drive down the cost for each participant. The cost of
installing solar has never been lower, and households can receive a Federal Tax
Credit for 30 percent of the system cost, while Wisconsin's Focus on Energy
program offers up to $2,000 in additional rebates.
The program, through its contractor RENEW Wisconsin, has begun recruiting
interested households to participate. This summer, citizens can learn more and
sign up at madisunsolar.com.

Madison Mayor Paul Soglin lauded the
group buy program. "These programs are proven vehicles for making rooftop
solar more accessible and affordable for homeowners in the community, and
that's why we thank MadiSUN," he said.
The City will partner
Summit
Credit Union
to offer a special
Solar
Energy Loan Program
where residents can finance 100 percent of a solar
electric system with no fees or collateral. "Summit Credit Union is thrilled to
continue partnering with the City of Madison bringing solar technology to the
area," they said in a statement. Details on the MadiSUN loan program can
be found on the website
summitcreditunion.com
or by calling
800-236-0985
.
Six educational
events were also announced as part of the program
, aimed at helping
residents learn more about solar energy and the options available for
installing solar. All events are free and open to the public. The dates, times,
and locations information sessions are available at
www.madisunsolar.com/upcoming-events
.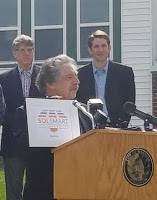 Madison Mayor Paul Soglin accepts
SolSmart's "Gold" designation.
Madison earned a
"gold" designation from SolSmart, the highest level of
recognition from a national program under the U.S. Department of
Energy's SunShot Initiative. The "gold" designation recognizes the city's
efforts to accelerate solar development, from improving permitting and zoning
for solar, to investing in financing and solar workforce training
programs. Madison recently became the
first community in Wisconsin to commit to a goal of 100 percent renewable
energy. The City is already progressing toward that goal, including initiatives
like a citywide solar apprenticeship program whose trainees will install
another 100 kilowatts of solar on city facilities.


Middleton Mayor
Gurdip Brar pointed to the city's many solar developments in recent months,
such as the 100kW atop the Middleton Police Station. "We at the City of
Middleton are proud to work with our neighbors to bring the benefits of solar
energy to all of our communities here," he said. "Going forward, Middleton and
Madison are going to be cooperating a lot more," he said.
"2017 is going to be a great year for solar, and we
encourage Middleton families to take advantage of this opportunity," Brar said.
"This is a great day for our communities."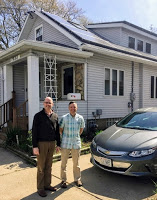 Jay Edgar and Josh Feyen use their solar panels
to power their hybrid-electric car.
Homeowners Josh Feyen and Jay Edgar
hosted the event outside their home, where they installed 6 kW of solar panels
in 2016 as part of that year's MadiSUN Group Buy program. The array also powers their new car, a
hybrid-electric Chevrolet Volt. Feyen
estimates that the system will pay for itself through energy cost savings in about
10 years "and then we're going to be getting about 20 years of free
electricity, including charging our car three times per week. So if you think
about it, we're saving a lot of money from the energy we're creating and the
gasoline we're not putting in our car," said Feyen. They were also able to take
advantage of the federal tax credit and rebates from the Focus on Energy program.
Feyen and Edgar have also been talking to family and friends
about the benefits of the MadiSUN program. "We've kind of been Johnny
Appleseed," Edgar says.
MadiSUN Program
Manager Katherine Klausing concluded by saying, "We've built a lot of
momentum leading to this event. As successful as the past year has been, we
believe 2017 is going to be even better."
**END**