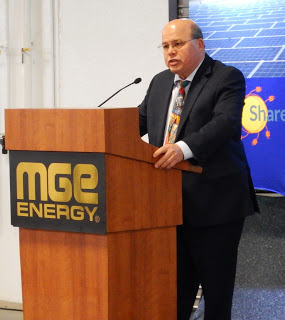 Middleton Mayor Kurt Sonnentag
The largest shared solar array serving a Wisconsin
investor-owned utility provided the occasion for a thank-you to subscribing
customers at the Middleton Operations Center January 29th. Notwithstanding
overcast conditions outside, Madison Gas & Electric CEO Gary Wolter and
Middleton Mayor Kurt Sonnentag beamed with
gratitude as they spoke to the customers who signed up to purchase a
share of the output from the utility's first grid-connected solar generator.
Said Mayor Sonnentag: "Today on the roof of this
facility it's great to have a "Shared Solar" partnership with MG&E that
enables community members to receive the benefits of solar without having to
place it on their house."
Wolter noted that that this collaboration with the City of
Middleton and its own residential customers is a key component of its
Energy2030 framework
. Under this framework, MGE aims to supply 30% of electric sales
with renewable energy by 2030 and to reduce carbon dioxide emissions 40% from
2005 levels by 2030.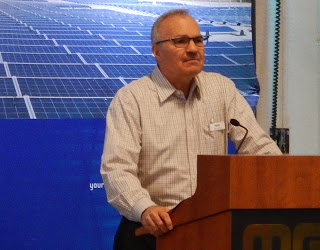 Madison Gas & Electric CEO Gary Wolter
Visible from U.S. Highway 12 northbound, MGE's 500 kilowatt
(AC) array consists of 1,728 panels, and has been producing electricity since
early January. Madison-based H&H
Solar designed and constructed the project, which includes inverters
manufactured in Milwaukee. Also in 2016, H&H Solar designed and built a 97
kilowatt (kW) solar electric system that sits atop the Middleton Police
Station. All told, City of Middleton facilities now host more than 600 kW of
solar generating capacity, the most among Wisconsin municipalities.
Any residential customer could take part in MGE's Shared
Solar program, but subscription levels were capped at 50% of a customer's usage
up to a total of three kilowatts. At the same time, MGE structured the program
to allow customers to enter with a relatively low up-front payment ($47.25/250
watts; $189/kW). Even though the solar energy rate starts out higher than
standard electric service, it remains fixed over a 25-year period. Over time,
rate increases could whittle down the price gap to the point where solar energy
becomes less expensive than standard service.
In the end, it took MGE only four months to fully subscribe
the output from its first shared solar array. Customers interested in future
shared solar programs can
put their names on a waiting list.