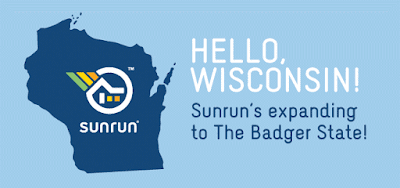 San Francisco-based Sunrun, the leading residential solar company in the nation, announced today its intention to venture into Wisconsin and begin offering customers several options for financing a new solar PV system.
The entrance of Sunrun into Wisconsin represents the first time a national rooftop solar company has ventured into the Midwest. Sunrun will target southeast Wisconsin counties from Sheboygan and Fond du Lac in the north to Kenosha, Walworth, and Rock in the south.
Says Amy Heart, Sunrun's Director of Public Policy and a long-time solar advocate in Wisconsin: "We are excited to be the first national residential solar company to serve the Midwest, and I personally could not be more proud to help Sunrun call Wisconsin home. Wisconsin has an opportunity to lead the region with solar energy–leading to new jobs and a stronger economy."
In an interview with Midwest Energy News, Sunrun's Heart explains the reasoning behind her company's decision to select Wisconsin as its point of entry into the Midwest.
For more information on Sunrun's financing options and opportunities for employment, visit the full press release here.