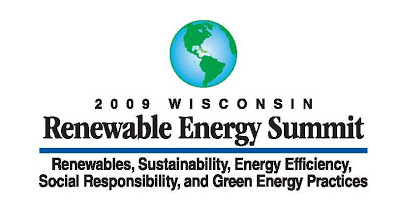 The Renewable Energy Summit opened online registration for the event at the Midwest Airlines Center, Milwaukee, March 25 – 28, 2009.
Fifteen program themes highlight bio industry energy; business technologies and practices; curriculum programs and course design; energy efficiency, energy management and renewable, sustainable and green practices; energy policy, legal issues, drivers of the energy revolution, and opportunities for funding; green career pathways; green manufacturing; greening practices for colleges; green transportation; solar electric energy; solar thermal and geothermal energy; utility issues; water technologies; and wind energy.
March 25 and 26 focus on the renewable energy industry with presentations on all sectors of the industry. March 27 features Green Career Day with the focus on educational and job opportunities. March 28 offers workshops and short courses at the MATC Oak Creek Campus. For details see www.renewableenergysummit.org.