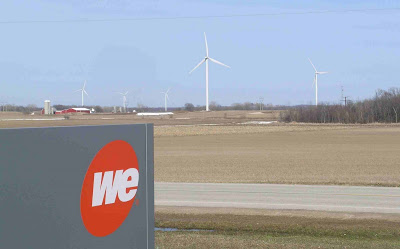 A view of the Blue Sky Green Fields wind farm from the project's operations center.
An announcement from We Energies:
Wednesday, May 20, 2009
3 p.m. – 7 p.m.
Blue Sky Green Field Office
N9470 County Highway W
Malone, WI 53049
Tours will be given approximately every 30 minutes. Please stop by at your convenience during the tour hours listed above. No reservations required. The turbine is located a short walking distance from the parking area. Please wear sturdy shoes suitable for walking on a graveled surface.
The Blue Sky Green Field Wind Energy Center, located in the towns of Calumet and Marshfield in northeast Fond du Lac County, is designed to generate 145 megawatts (MW) of electricity, and is capable of powering approximately 36,000 average residential homes. The site consists of 88 wind turbines.
Construction of the project began in June 2007. On May 19, 2008, Blue Sky Green Field was placed into commercial operation. We invite you to visit our facility and learn more about wind energy.
If you have any questions, call 920-980-3224.