RENEW Wisconsin invites our members and other renewable energy supporters to our membership meeting at the Polk County Energy Fair, 1:00 p.m., August 18, in St. Croix Falls. If you are not yet a member, please Join Today!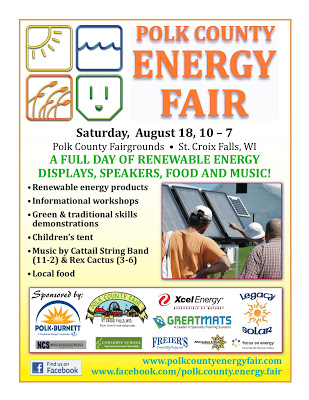 For the meeting's highlight, I'll release an evaluation of major Wisconsin utilities' commitment to renewable energy — Xcel actually does reasonably well — and invite area media to cover the evaluation announcement, meeting, and fair.
I'll also report on the progress RENEW has made in advancing three statewide priorities that should be beneficial in northwest Wisconsin as well:
Build a coalition in support of our Clean Energy Contract initiative, which would allow customers to purchase renewable energy from systems located on their premises and owned by third parties;

Represent renewable energy stakeholders at the PSC and with the Focus on Energy administrators to offer proactive options for the renewable energy program;

Improve utilities' outdated interconnection requirements.
RENEW thanks the sponsors of the meeting:
Chippewa Valley Alternative Energy, a small, family-owned business in west-central Wisconsin, has been involved in the alternative energy field in for over 25 years, and has been heavily involved in many aspects of thermal, pyrolation and gasification energy technologies; and, Jeff Peterson, a RENEW member, are sponsoring RENEW's membership/public meeting at the Polk County Energy Fair, August 18, at 1:00 pm in St. Croix Falls.