Wednesday September 20, 2017,
Madison.
For
Immediate Release
Katherine
Klausing, RENEW Wisconsin
608-255-4044
x5, 614-406-1105
Solar for Good
, a new initiative from the renewable
energy advocates at RENEW Wisconsin,
will offer grant funding to assist mission-based Wisconsin nonprofit
organizations with installing solar panels on their facilities.

The grant program was created and funded entirely by a donation from local
philanthropists Cal and Laurie Couillard
of Deerfield.




With solar
installation costs falling dramatically and public enthusiasm on the rise, more
and more people and businesses have installed solar in recent years, and the
program seeks to expand the benefits of solar to not-for-profit organizations.
"We know
that the solar energy boom is having a positive impact on our Wisconsin communities,
from creating good local jobs to cleaning our air and water," said Tyler Huebner, Executive Director of RENEW
Wisconsin. "That's why we are very excited to help more nonprofit
organizations and houses of worship, who are working every day to improve our
communities, join the solar movement."
Solar for Good will award
a total of $125,000 in grants to nonprofit organizations and houses of worship to
assist them in installing solar electricity systems. The grant program will
fund up to 20% of the cost of a solar project, with a grant cap of $10,000 for
solar projects sized less than 75 kW and a grant cap of $20,000 for projects 75
kW and above. Solar for Good will also offer small grants for technical
assistance, including professional solar site assessments and engineering
services, to get projects started and see them through to success.

By installing their own solar projects, these
organizations will be able to generate their own clean, renewable energy, save
money on their utility bills, and reinvest the energy cost savings back into
their missions.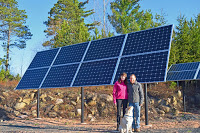 RENEW Wisconsin and Solar for Good
aim to use the grants to help
organizations going solar to spread the word about their solar investments and
educate their communities about the benefits of solar energy.
"The cost of installing solar panels has fallen by over half
in the past five years. With these lower
costs, we have an opportunity to make sure that all segments of our community can
receive the many benefits of solar energy, including a lower electricity bill
and an energy source we can feel good about," said Katherine Klausing, Engagement Manager at RENEW Wisconsin.

"As leaders and messengers, these
organizations can demonstrate how solar energy really benefits everyone, not
just the traditional 'early-adopters'."
The fund was started by a single family, "but their dream is that we
would grow this initiative beyond a single round of funding," added Huebner.
"If there are other philanthropists out there who care about renewable energy
and want to invest in local community organizations, we encourage them to reach
out to RENEW Wisconsin and consider supporting this new initiative."

The program will run in concert with Focus on Energy rebates which are also
available for many nonprofit organizations in Wisconsin.

Beyond those rebates, homeowners and
businesses can take advantage of tax credits which enable them to lower the
costs of solar investment. This program is focused on mission-driven non-profits
who would not benefit from those tax credits.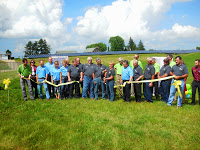 In order to
be eligible, the organization must be a registered nonprofit organization
located in Wisconsin, be in good financial standing, be ready to install solar
and agree to participate in educating community members about the benefits of
solar energy. If approved for a grant, all fundraising, design and installation
for the solar project must be completed within 12 months. The program is geared
towards mission-based, primarily 501(c)3 organizations, and is not designed for
local governments or schools.
Applications
for this round of funding must be received by Monday November 13th 2017. Decisions and funding announcements
will be made by Monday December 11th, 2017.

For organizations
looking at solar for the first time, technical assistance grants are available
to fund a solar site assessment (up to $250) or engineering review (up to $500)
for their solar array. These applications will be reviewed separately from the
applications for grants for solar installation and will be awarded on a
first-come, first-served basis.




RENEW Wisconsin is a
nonprofit organization which promotes renewable energy in Wisconsin. We work on
policies and programs that support solar power, wind power, biogas, local
hydropower, and geothermal energy. More information is available on RENEW's
website:
www.renewwisconsin.org

#####