More information
Tyler Huebner, Executive Director
608-575-2201 (cell)
tyler.huebner@renewwisconsin.org
PSC Approves Madison Gas & Electric Community Solar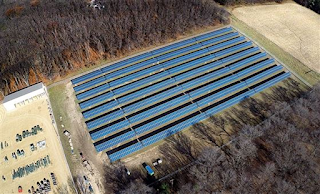 Eau Claire Electric Cooperative's 2015
872 kW Community Solar Array
Madison, WI – March 11, 2016
Today, the Public Service Commission of Wisconsin, which regulates the state's utilities, approved a Community Solar project for Madison Gas & Electric (MGE). "Community solar" is a single, larger solar project in which a large number of people collectively share in the cost to build the project and share in the benefits of the solar energy production. The MGE project will be 500 kilowatts and will be placed on the roof of the Middleton Operations Center in Middleton, WI. MGE estimates that 250 people will participate in this project.
MGE joins a host of other electric providers offering community solar in Wisconsin, but this project differs from the others in two key ways:
– Participants will pay a small up-front fee of 10% of the cost per solar panel, as opposed to paying the entire fee for a panel at once
– Participants will then pay a 12 cents per kilowatt-hour rate for the solar energy generated by the Middleton array for up to 25 years. This is higher than today's energy-only rate. But standard electric rates are expected to rise over time and exceed the 12 cent energy-only rate in about 10 years, meaning customers will start saving money at that point. (Both standard rates and the solar rate will also see 3-4 cents per kilowatt-hour in distribution charges.)
MGE structured its program differently because it has different customer demographics and looked for a program option that would not require a large up-front fee.
"Solar energy development improves Wisconsin because it creates jobs and increases local, secure, and clean energy," said Tyler Huebner, RENEW Wisconsin's Executive Director. "Adding options for more customers to participate in solar is a smart business move for MGE. Nearly 90% of Wisconsinites want more solar power, but only about 1 in 4 customers can put solar on their own property. Community solar programs like this enable many more citizens to participate in building a clean energy economy. We congratulate MGE on gaining approval for this novel community solar program design, and we hope it is successful."
MGE's application and supplemental responses are available in Docket 3270-TE-101 at the PSC's website, http://psc.wi.gov/.