More information
Tyler Huebner, Executive Director
608-575- 2201 (cell)
tyler.huebner@renewwisconsin.org
RENEW Applauds Dairyland Power and EDP Renewables for Wind Energy Expansion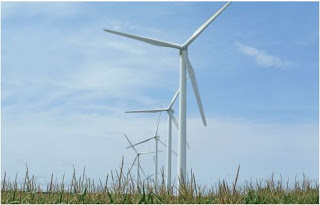 Also in southwest Wisconsin, the Montfort Wind Farm
Madison, WI – June 8, 2016
Today, Dairyland Power Cooperative, based in La Crosse, announced they will purchase power from a new utility-scale wind energy project in Lafayette County in southwest Wisconsin.
The "Quilt Block" wind project will be developed by EDP Renewables, which has its U.S. headquarters in Houston, Texas. The project is approximately 98 megawatts, which when constructed will provide over 15% of Wisconsin's wind power.
RENEW Wisconsin's Executive Director, Tyler Huebner, said "We congratulate and applaud Dairyland Power Cooperative and EDP Renewables for this major clean energy venture that will bring a multitude of benefits to southwest Wisconsin and Dairyland Power members throughout the state. Dairyland is making the most of the opportunity at hand to lock in the benefits of low-cost clean energy for its member cooperatives."
The project will deliver savings to ratepayers as well as stimulate the local economy. Quilt Block will yield an annual revenue stream of nearly $400,000 to Lafayette County and the Town of Seymour, while creating hundreds of family-supporting jobs during construction. All across the Midwest, rural local governments have relied on utility-scale wind generation to minimize property tax increases.
Huebner said, "We also salute EDP Renewables for designing a wind power project that is strongly supported by the local community, and for staying with it for more than a dozen years."
Concluded Huebner, "Between WPPI Energy's recent windpower request-for- proposals announcement earlier this week, Dairyland's multimegawatt solar energy initiative, and its new wind power project, renewable energy is now clearly cost-competitive in Wisconsin."
Dairyland's press release can be found at http://www.dairylandpower.com/dcontent/article/DPCWindExpansion75thAnnualMtg2016.pdf
This story was covered in the Milwaukee Journal Sentinel and the La Crosse Tribune.