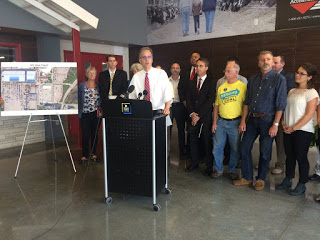 Dane County Executive Joe Parisi announces
solar initiatives for the 2017 budget
In late September, Dane County Executive Joe Parisi unveiled plans to triple the amount of county-owned solar generation–from 330 kilowatts to 1 megawatt–and convert the county's main landfill into a source of clean renewable methane for injection into a nearby natural gas pipeline. A portion of the landfill's output will power 75 heavy-duty vehicles in the county's fleet by the end of 2017. See the press release here.
In advance of the County Board's budget hearing on October 19, RENEW expressed its vigorous support for Parisi's initiative in a letter circulated to Dane County supervisors. Please contact your supervisor and ask him or her to support the clean energy provisions in the 2017 budget proposal.
See our letter of support below:

Date: September 19, 2016
To: Sharon Corrigan
Chair, Dane County Board of Supervisors
Jenni Dye
Chair, Personnel and Finance Committee
From: Tyler Huebner, Executive Director
Michael Vickerman, Program and Policy Director
Re: Clean Energy and Climate Change Provisions in the 2017 Dane County Budget Proposal
We write to communicate RENEW Wisconsin's strong support for the clean energy and climate-change related provisions that appear in the proposed 2017 budget now before the County Board. If adopted, these provisions would greatly enhance the County's ability to bring about a clean energy future for its citizens and its own operations. The investments contemplated in the capital budget will reduce energy-related expenses over the long term while generating new revenue streams that can help fund county operations or provide tax relief, while the creation of a new Office of Energy and Climate Change will enable Dane County to coordinate a forward-looking emissions reduction strategy with municipalities and other key stakeholders.
We endorse the following provisions in the capital budget:
1. The investment of more than $2 million to build solar generation systems totaling 770 kilowatts at the Alliant Energy Center and the Dane County Jobs Center. These arrays will reduce pollution from county operations while lowering the county's electric bills by more than $2 million over 20 years. We note that the County Executive's office took great care to situate the new solar generating capacity at locations that will generate the greatest monetary savings. Adding the new arrays to its existing portfolio of systems will result in one megawatt of county-owned solar generation, by far the largest commitment of any Wisconsin county to what has become an affordable and locally available source of clean energy.
2. The investment of $18 million on infrastructure to produce pipeline-grade methane from the Rodefeld Landfill and enough compressed natural gas to power 75 county-owned vehicles by the end of 2017. This far-sighted initiative will enable Dane County to convert its Rodefeld facility from an electricity-generating energy center to one that supplies clean methane to a nearby pipeline. Transitioning the energy infrastructure at Rodefeld in this manner will insulate the County from the economic impact of drastically reduced electricity buyback rates in 2018. Indeed, the production of a low-carbon renewable fuel would generate a significant revenue stream likely to offset the initial investment in less than four years. This initiative would further advance the progress Dane County has already achieved in substituting renewable methane for fossil fuels to fuel its fleet of patrol trucks and snow plows.
We endorse the following provision in the operations budget:
The creation of an Office of Energy and Climate Change within the County Executive's Office. The purpose of this new office is to lead, shape and steer climate change mitigation strategies undertaken by public and private entities throughout the county. Several Dane County communities, most notably Madison, Middleton and Monona, have on their own launched significant initiatives to reduce fossil fuel emissions. The individual hired to staff this office would develop a countywide approach for engaging such stakeholder groups as municipalities, electric providers and businesses. Key near-term objectives for this office will be the formation of a Dane County Council on Climate Change, and the development of an action plan that integrates today's piecemeal efforts into a coordinated and resourceful program.
The initiatives proposed in the 2017 budget would build upon a record of success in the clean energy and emissions reductions arenas, one that the County Executive and the County Board can take pride in. In recognition of Dane County's achievements and its desire to lead the way on clean energy development and reducing greenhouse gas emissions, we urge the County Board to approve the budget provisions that will accelerate the momentum already in evidence.
Sincerely,
Tyler Huebner
Executive Director
Michael Vickerman
Program and Policy Director
cc: Dane County Board of Supervisors