Now that the snow has finally melted and spring is here RENEW Wisconsin is ramping up its activities around the state of Wisconsin.  This last week was especially busy for me as I visited central and western Wisconsin to learn about renewable energy across the state and to meet and talk about the trends in renewable energy with our elected officials.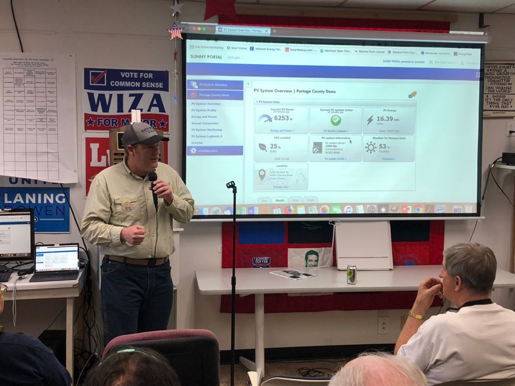 Portage County Democratic Headquarters Solar Ribbon Cutting
On Sunday, April 22nd, the Democratic Party of Portage County celebrated Earth Day 2018 by holding a ribbon cutting event for the brand new solar array that they installed on their headquarters building in Stevens Point, Wisconsin. The event was moderated by State Representative Katrina Shankland and more than 40 people were in attendance. This was the first solar array on any Democratic Party office in the State of Wisconsin. They are betting there will be plenty more very soon!
RENEW member Doug Stingle of North Wind Renewable Energy installed the system.  Doug explained some of the technology behind the 7.4 kW array and showed how it will offset an anticipated 67% of the Democratic Party office's annual electrical usage.
To close the event, Rep. Shankland introduced me and asked me to give an update on what RENEW Wisconsin is working on to advance renewable energy in the state.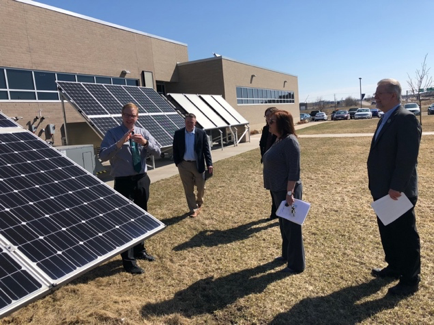 Tour of Chippewa Valley Technical College
On Monday, April 23rd I was very excited to visit the Chippewa Valley Technical College (CVTC) and their Energy Education Center and get an interesting tour of the facility by Adam Wehling, Dean of the Agriculture, Energy and Transportation Department.
Joining me on the tour were Deb Erwin of Xcel Energy and three local state legislators from the Eau Claire area; Representatives Kathy Bernier (Lake Hallie), Warren Petryk (Eleva) and Rob Summerfield (Bloomer).
The Energy Education Center offers diverse training in various energy generation, energy distribution and energy efficiency technologies.  The renewable energy certificate is integrated into their other trades programs such as Electrical Power Distribution, and HVAC Technician.
All three legislators were very interested to hear about the tremendous reduction we are seeing in price of wind and solar energy and fast growth that those technologies will see in Wisconsin in the near future and working together to address the challenges and opportunities that these emerging technologies will present.
Leading the Charge Conference
On April 23rd and 24th I continued my North-West Wisconsin renewable energy tour in Eau Claire and participated in a local government summit hosted by the Wisconsin Academy of Sciences, Arts & Letters titled "Leading the Charge" that explored emerging issues in local energy planning and resilience in Wisconsin communities.
Speakers from across the state discussed their local efforts to increase energy efficiency and how local governments can use renewable energy and efficiency to reduce emissions and increase energy resiliency.  Other sessions discussed solar energy financing programs for private businesses, residences and local governments, the future trends in energy usage such as electric vehicles and the jobs and training necessary to grow the renewable energy industry in Wisconsin.
One on One with Senator Patty Schachtner
On April 24th, following the Local Government Summit, I stopped in to see Wisconsin's newest State Senator Patty Schachtner (Somerset) to introduce myself and to talk about some of the issues facing renewable energy in the next few years.  Senator Schachtner drew national attention when she won a special election in the 10th State Senate district to replace Senator Sheila Harsdorf who retired from the seat in December to assume the position of Secretary of the Wisconsin Department of Agriculture, Trade, and Consumer Protection.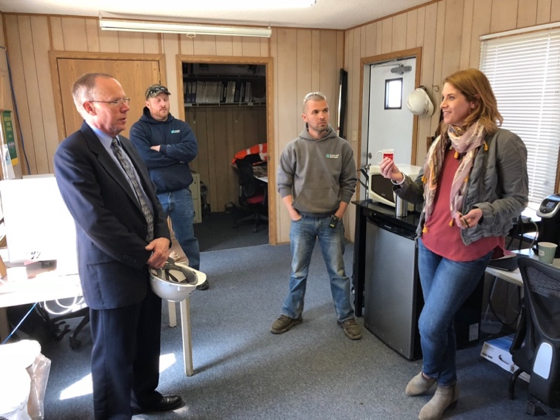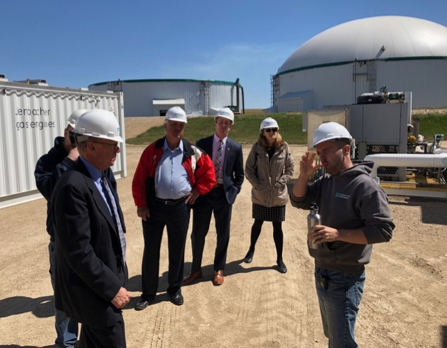 Biogas Digester Tour
On Wednesday, April 25th I joined RENEW Wisconsin member Jessica Niekrasz of Clean Fuel Partners for a tour of their biodigester facility located just north and west of Madison.  On the tour was General Donald Hoffman, a retired four-star general of the United States Air Force who is doing research on the fast-developing world of renewable energy technologies and how they can make our nation more secure. Also joining the tour was Jon Plumer, who is a member of the Lodi Town Board and is running for election in the 42nd Assembly District which is also located just north of Madison.