Just before RENEW's policy summit, the keynote speaker, former Governor of Colorado, Bill Ritter, did an excellent interview on Milwaukee Public Radio. Listen to the interview below, or read the article "Colorado's Renewable Energy Economy Offers Model for Wisconsin" with Susan Bence (attached below).
The Port of Milwaukee announced this week that the wind turbine that supplies energy to the port's administration building has been paying dividends to the city. In less than a year of operation, the turbine shifted electrical costs at the port by almost $15,000 dollars. In fact, the electrical utility actually paid the port for the surplus energy it produced.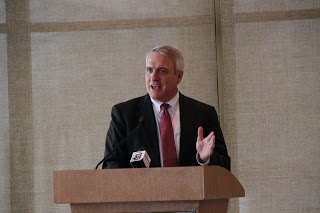 Bill Ritter, delivering the keynote at RENEW 's Summit
This news is likely music to the ears of former Colorado Governor Bill Ritter, who championed alternative sources of energy during his time in office. Ritter is now the Director for the Center for the New Energy Economy at Colorado State University, where he is helping states across the country create plans to implement renewable energy economies. And he's in Wisconsin this week as the keynote speaker at the RENEW's Energy Policy Summit in Madison.
Aggressive renewable energy standards


Ritter says energy issues first emerged as a priority in his political career when he was campaigning for governor in 2005 and 2006. His campaign focused on renewable energy as a way to move Colorado forward and it became a pillar of his administration's agenda. Once in office, he signed 57 clean energy bills.
Now Colorado is one of the leaders in the country when it comes to alternative energy. Ritter says the state is on the path to supplying 30 percent renewable energy by 2020, "one of the most aggressive renewable energy standards in America."
Today, Wisconsin has a renewable energy standard of 10 percent by 2015, but Ritter says a lot of that power comes from outside the state, whereas Colorado's is mostly in-state.
"Actually our cost of power relative to the rest of America has gotten cheaper as we've pushed this very aggressive clean energy agenda," he says. "We had a day last April where our primary and best run utility got 57 percent of all its energy that it provided Colorado customers from wind alone."
Building a 'new energy economy'


Of course, the cost has gone down because of broad deployment of such methods. In building this "new energy economy," Ritter says Colorado attracted manufacturing companies that focused on wind and solar energy, and promoted research and development among private companies and government entities.
"We really have this ecosystem built around advanced energy or clean energy, and really trying to say, 'It could be domestic, it could be clean, it could help us create job and we can protect rate fares in the process,'" he says.
Facing challenges


But Ritter admits creating this "new energy economy" didn't come without its hurdles. Some utilities and critics opposed the government creating a renewable energy standard, which at first was 10 percent by 2015.
"People say we don't like standards because it's a mandate," Ritter says. "Quite frankly the entirely energy sector has been heavily regulated since it's inception, and so to say something like renewable energy standards are a mandate and we should do away with it, I think it's just wrong, because everything in energy is based on regulation. It is not the operation of free market and it's that way by intention."
So voters went to the ballot and passed the standard. Soon, after the state legislature put in a rate cap, the utilities were on board, approving of a doubling of the standard and eventually a tripling of it. Ritter says that's because the utilities saw that they could make the benchmark, they could hold rates in check and get returns on their investment, and they could make customers happy.
"Actually our cost of power relative to the rest of America has gotten cheaper as we've pushed this very aggressive clean energy agenda." -former Colorado governor Bill Ritter
Dealing with the utilities was not the only problem the state encountered in getting behind renewable energy. The coal industry, which provided many mining jobs in the state, felt their market share was being taken by renewable energy. A plan to pay residents who built their own system and put power back onto the grid required some finagling. And naturally, political adversaries made it difficult for the legislation to get to Ritter's desk.
"I think the public liked it and got it, but I still had a difficult time politically with it, even with public support, because it doesn't have the sort of intensity, the political intensity, that other issues might like the economy or job creation," Ritter says.
He says his opponents claimed such an energy policy would lose jobs in the state, at a time when job creation was at a premium.
"That was really an awful thing to have said about you," he says. "But our clean energy and clean tech sector wound up being the only sector that grew during the worst recession since the Great Depression in Colorado."
Now Colorado is second in the country for solar jobs and number one per capita for employment for clean energy jobs overall, Ritter says.
Pushing the agenda


Based on his experience in Colorado, Ritter has some advice for Wisconsin in committing to renewable energy, which he says works handily with a free market. Leasing solar installations on buildings is one way to start.
"Last year over 80 percent of the rooftops in Colorado that installed solar were leased systems, so it's a great economic development driver," he says, citing similar success in California and Arizona.
At the Center for the New Energy Economy, Ritter says he is trying to push this whole agenda forward at the state level, from the financing to the R&D on advanced energy technologies to the practical implementation.
"How do we push this whole agenda forward at the state level, so a state can look at their energy economy and say, 'We're really about the 21st century," and we're tying domestic energy use with environmental issues, (and) economic development," he says.
See the original article here.