Overview: As 2015 winds down, it is abundantly clear that solar energy is on a roll in Wisconsin.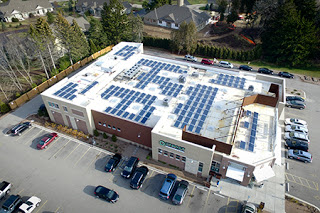 Outpost Foods in Mequon Solar Installation
The current year is ending with a flurry of installations and 2016 will start out on a similarly strong footing. The appeal of solar photovoltaic (PV) technology has never been as broad as it is now, stretching from the smallest of residential customers to farms and faith communities and beyond to manufacturers and even some utilities. Declining out-of-pocket installation costs now make solar-generated electricity an affordable energy option for all property owners with good solar exposure.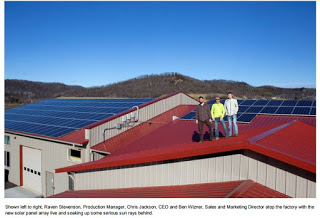 Borah Teamwear in Coon Valley Solar Installation
As a result, growing numbers of Wisconsin electricity customers are taking steps to lock in the savings from solar today for their homes and businesses.
This trend begs two questions: what trends and policies are driving the solar energy market right now and how long will this dynamic continue? Going into December, the 30% solar Investment Tax Credit (ITC) had 13 months to go before expiring at the end of next year. In a surprise development, Congress passed a spending bill containing provisions to extend the solar ITC through 2021. On the same day that spending bill cleared Congress (Dec. 18, 2015), President Obama signed it into law. Thanks to this unexpected but very welcome action, the ITC will remain at 30% through the end of 2019, and then decline to 26% in 2020 and to 22% in 2021.
(For more complete information on the renewable energy tax credit landscape going forward, visit the links below:
http://www.bloomberg.com/news/articles/2015-12-28/these-will-be-wall-street-s-most-in-demand-positions-next-year
https://cleantechnica.com/2015/12/20/boom-times-ahead-us-clean-power-thanks-oil-lobby/)
Here in Wisconsin, financial support for solar installations is poised to transition away from cash incentives to loans. In 2016 the transition will begin first with prospective commercial solar hosts.
Policy and Market Drivers: The most significant factors propelling solar installation activity through 2015 are outlined below.
– Declining cost of hardware. Installed costs continued falling through 2015, driven mostly by lower module and inverter prices. That trend should continue in 2016 and beyond.
– A 30% Investment Tax Credit (ITC) and accelerated depreciation provisions for new solar energy systems owned by taxpaying entities. These incentives will remain in place through 2021.
– USDA's Rural Energy for America Program, which offers grants and loan guarantees to qualifying rural businesses up to 25% of a PV system's installed cost. The next deadline for applications is February 1, 2016. Approximately $50 million is available.
– Focus on Energy, Wisconsin's ratepayer-funded energy efficiency and renewable energy program. About $5 million in cash rebates were issued in 2015.
Outlook: Rebates up to $2,400 for PV systems serving residential and small commercial customers will continue in 2016. However, the state has no plans at this time to offer cash incentives to commercial and industrial PV system owners in 2016. Instead, Focus on Energy will make available $2,500,000 in low-interest loans beginning in 2016, and will inject the same amount into the forthcoming revolving loan program in 2017 and 2018. Cash rebates for any sector beyond 2016 will hinge on a Public Service Commission decision likely to occur in mid-2016.
Bottom line: Notwithstanding the uncertainties created by Focus on Energy program changes, Wisconsin's solar market should see solid growth through the end of the decade.

Prepared by RENEW Wisconsin, December 2015