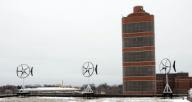 From a news release issued by SC Johnson:
RACINE, Wis., Jan. 12 /PRNewswire/ — SC Johnson has launched a wind energy pilot program at their headquarters campus with the installation of three new wind turbines. Already known for its use of renewable energy at their manufacturing facilities around the world, this new pilot program is expected to help the company further reduce its greenhouse gas (GHG) usage and raise awareness that renewable energy is not just for factories, but also office buildings in urban settings. The company also expects to gather useful information from the program that will help further its quest to continue to develop more sustainable solutions.
"The use of renewable energy is essential to making a difference in the world and conducting business in a responsible way," said Chairman and CEO Fisk Johnson, the company's fifth generation leader. "We hope our use of wind energy will inspire businesses in Racine and other cities to find new, sustainable solutions for reducing energy use."
The pilot program, which begins in January 2010 and runs through January 2011, builds on the company's efforts to reduce GHG and reduce carbon worldwide. The three wind turbines are located on the roof of one of the seven buildings on SC Johnson's international headquarters campus, which has an approximate eight block radius and where more than 1,300 employees work. The wind turbines are expected to be fully functioning by the end of the month. Once fully operational, the turbines will be connected to the company's electrical distribution system. The output they generate will power a small portion of the company's campus.
The company is hopeful that the outcome of the pilot program will be a clear picture of the number of computers, machines and other basic office resources that can be powered by renewable energy. Depending on the impact of the turbine's energy output, it is possible the company will extend the project to additional local SC Johnson facilities. . . .
To support local Wisconsin businesses and the local economy, SC Johnson chose American Renewable Power of Wisconsin to install the Swift turbines designed by Cascade Engineering, Inc. The turbines are expected to be fully installed and connected in late January and will be monitored closely throughout the year. SC Johnson engineers and technicians will be able to monitor the energy output and translate the information shortly after they are installed.