From an article in the Sheboygan Press by Dan Benson. Third-party ownership gets a look in Wisconsin:
Sheboygan aldermen will get their first look Tuesday night at a
proposal to install solar panels on city buildings at no cost to the
city and would hopefully lower the city's electric costs.
Members
of the city's Sustainable Sheboygan Task Force, which examines ways the
city can operate in a more environmentally friendly way, and
representatives from Arch Electric in Plymouth will make the
presentation to the council's Committee of the Whole at 5 p.m. in the
third floor council chambers at City Hall.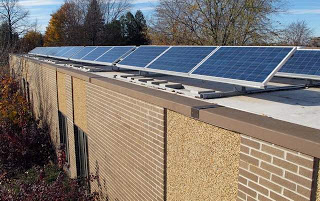 The
key to the proposal is using a financing plan in which the city would
lease the panels from Arch Electric. The energy savings would be greater
than the lease costs, said Jennifer Lehrke, a local architect and task
force member.
"It
would not cost the city anything because the panels are owned by a third
party," she said. "The investors who do this get to take advantage of
tax credits and accelerated depreciation and as a lease there is a small interest being paid to the investors."
The
task force is recommending that the council finance a study to see
which buildings would be the prime candidates for solar panels. Lehrke
estimated the study would cost less than $5,000. Lehrke estimated the
study would take two or three months to complete.
If adopted, the plan would would be the first in the state, she said.
"We
would be a forerunner in the state. It's a way to distinguish
Sheboygan, probably the first of its kind in the state," she said.
Arch Electric owner Ed Zinthefer confirmed that.
"It's never been done in Wisconsin," he said.
His
company has installed solar panels on a number of local projects,
including the Maywood Environmental Center and at Ebenezer and First
Congregational United Churches of Christ.
Former
Common Council member Jeanne Kliejunas, also a member of the task
force, said Arch Electric is one of the most experienced solar
installation companies in the state that until now has worked mostly
with private clients.
"They would like to expand into the municipal market," she said.