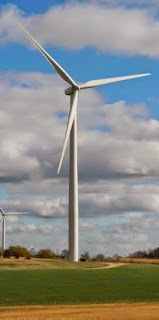 Butler Ridge Wind Farm
Iron Ridge, WI
The wind industry received some good news yesterday from a most unlikely source–Wisconsin state government—when the state's Supreme Court affirmed the wind siting rule (PSC 119) that's been in effect since March 2012. The ruling closes the four-year long legal challenge to the wind siting rule waged by the Wisconsin Realtors Association and the Wisconsin Builders Association.
The wind siting rule, which was promulgated by the Public Service Commission (PSC) in December 2010, specifies the strictest siting requirements that a local government can place on a wind energy installation up to 100 MW in size. The relators and builders filed a lawsuit in 2011 to invalidate the rule, contending that the PSC failed to consider the impact of wind generation on the state's housing market. But their argument failed to persuade a Brown County circuit court, and that judge's decision was upheld twice, first by the Court of Appeals and, finally, the state Supreme Court on a 5-2 vote.
As Tom Content's article in the Milwaukee Journal Sentinel points out, the decision will have no immediate effect on windpower development in Wisconsin, as there are no pending projects under review by a local government, nor are there any under construction. As the table below demonstrates, wind development in Wisconsin lags behind neighboring states by a substantial margin.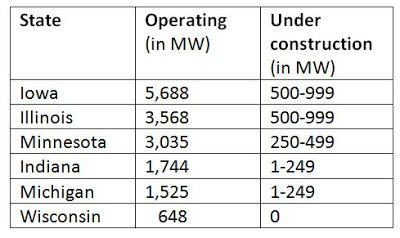 Sources: American Wind Energy Association, RENEW Wisconsin