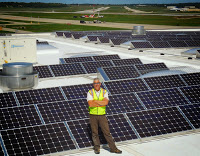 Today, the Public Service Commission of Wisconsin finalized decisions related to Focus on Energy's renewable energy program for 2017 and 2018.
Overall Funding: The first item to note is that the total funding for renewable energy incentives is now $8.6 million over the 2017-18 two-year period. This is up from $7.7 million decided in their previous meeting of October 20th, and reflects an additional $900,000 from unspent funds remaining in the now-terminated Renewable Energy Loan Fund.
Funding by Program: The Commission decided to fund programs at the following levels, largely agreeing with recommendations RENEW Wisconsin put forth in late October. Business customers will be able to take advantage of Prescriptive Incentives, which offer pre-determined levels of funding for eligible technologies like solar PV and geothermal projects, as well as the Renewable Energy Competitive Incentive Program (RECIP), which accepts competitive proposals and awards grants for larger projects.
Based on RENEW Wisconsin's understanding of the Commission's discussion today, we estimate the budgets accordingly.

Note that these figures may change as more information becomes available.
Incentive Level for Solar PV: The Commission also adjusted the incentive levels and caps on project sizes for solar photovoltaic systems. The commission lowered the incentive from about 16% of the cost of an average project–$600 per kW–to 12% of the project cost, which will adjust yearly with average market prices. At this year's prices, the incentive would be $450 per kW, according to Commission Chairperson Ellen Nowak. Nowak noted that the solar incentives have been very popular and fully spent down in each year and that reducing the incentive level to match falling market prices would allow more installations to be funded.
Following recommendations from staff and RENEW, the Commission also agreed to raise the maximum eligible project size from 4kW to 8kW for business customers. Residential incentive eligibility will remain capped at 4kW.
"We applaud the Commission's decision to continue to fund these critical projects," said Tyler Huebner, Executive Director of RENEW Wisconsin. "These highly successful incentive programs will ensure that renewable energy thrives in Wisconsin, keeping our energy costs low and our energy jobs local."
In addition, the Commission directed $20 million in funding to expand biogas production on dairy farms. An interagency working group will release a joint RFP for a network of interconnected anaerobic digesters, which will allow manure from dairy farms to be converted into renewable natural gas. The Commission noted the many benefits that anaerobic digesters have to offer in Wisconsin, from improving water quality, to nutrient management and local, renewable energy. RENEW Wisconsin has closely followed and supported statewide initiatives to deploy biogas technologies. For more information and our take on Governor Scott Walker's recent announcement, visit our blog.
Finally, the Commission outlined new programs for rural customers that will align greater access to broadband with participation in Focus on Energy's efficiency programs. The Commission announced $16 million in funding for new programs that provide broadband-connected energy efficiency devices like smart thermostats and smart power strips, $4 million for energy efficiency retrofits for broadband providers' facilities and $6 million in additional programs for agricultural energy management, rural small business support and others.