Michael Vickerman
RENEW Wisconsin
September 30, 2014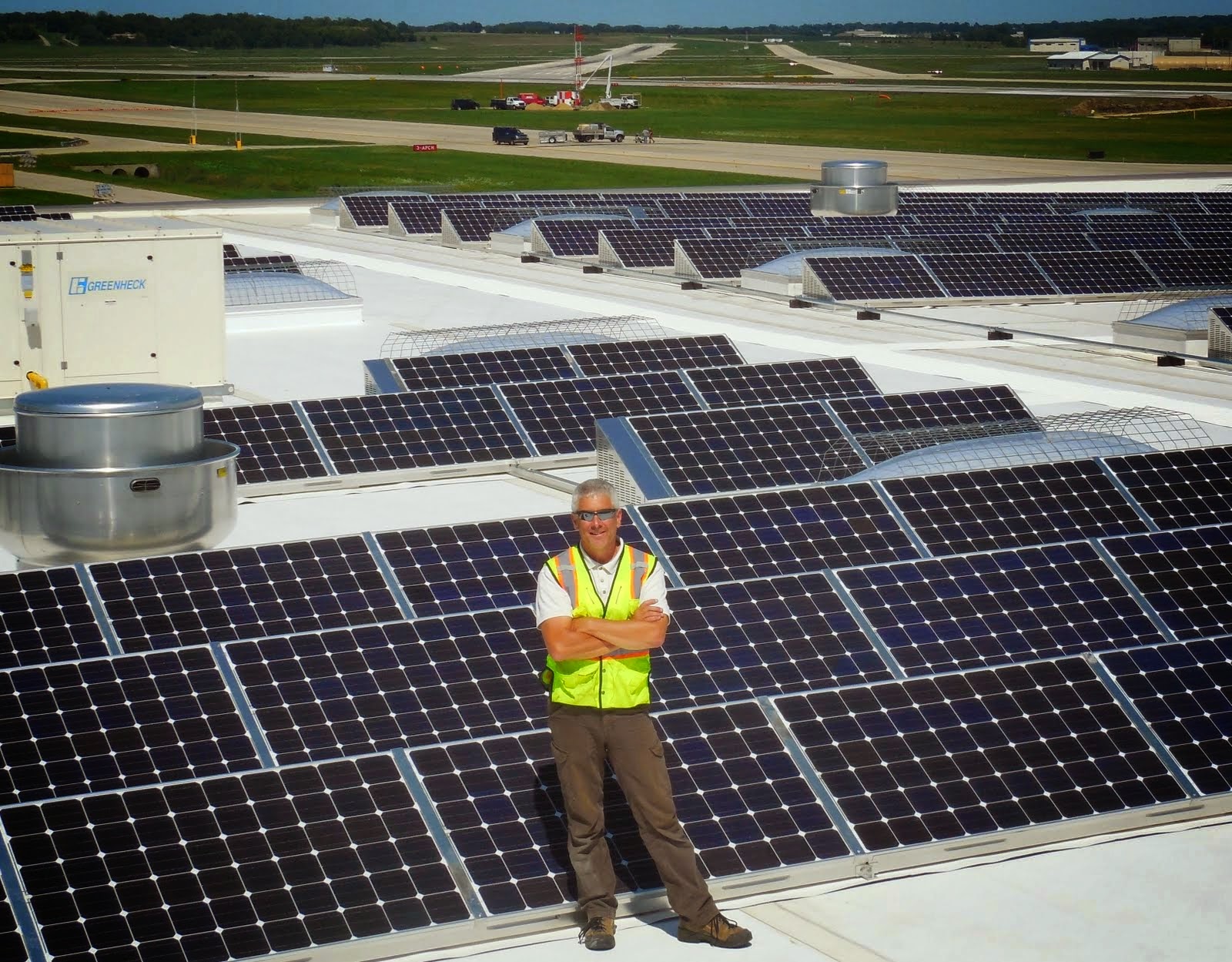 Craig Tarr of Energy Concepts at the Dane County Airport solar array

One of
Wisconsin's largest solar electric systems is now supplying clean renewable
energy to the Dane County Regional Airport.
Online since late August, the 100 kilowatt array sits on the roof of the
airfield's new maintenance building, and will generate 50% of the electricity
consumed at this two-story, 58,000-square-foot facility. The maintenance
building is located on the southwest corner of the airfield.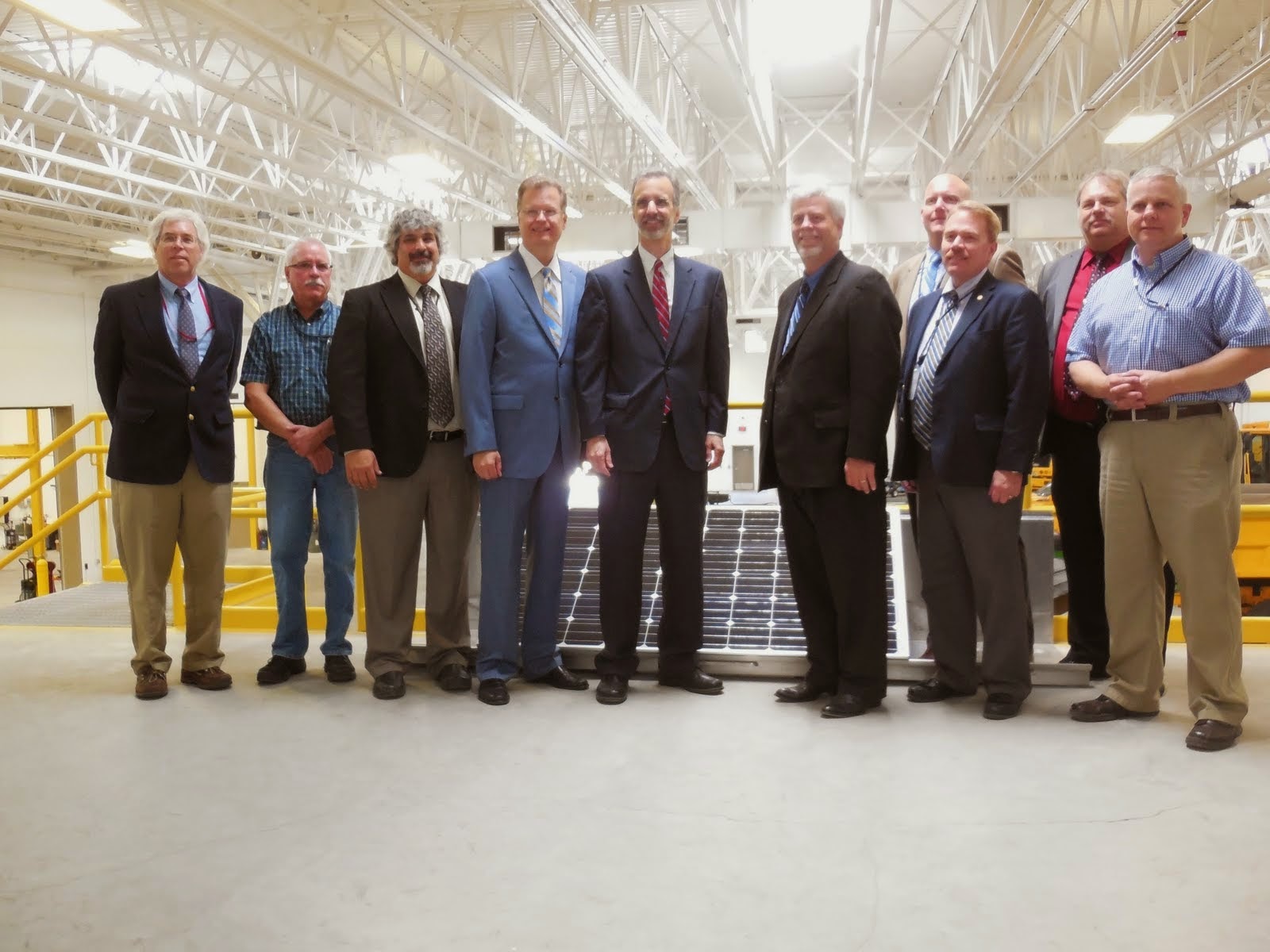 Dane County Executive Joe Parisi (center) at the dedication ceremony on Thursday, September 25th.

Not only is
Dane County's solar project the largest owned by a Wisconsin local government,
it is the largest serving an airfield in the Badger State. The system's 376
panels are expected to generate 135,000 kilowatt-hours per year, the annual
equivalent to the usage of 22 residences in Madison Gas & Electric
territory.
Hudson,
Wisconsin-based Energy Concepts designed and installed the $300,000 solar
electric system.

Suniva, a Georgia
company, manufactured the 65" x 39" panels. Each panel weighs 40 pounds.
In its first
30 days of operation, Dane County's solar electric system produced 13,270
kilowatt-hours, about 24% higher than engineering estimates, according to
Energy Concept's Craig Tarr, who designed the array and oversaw its
installation.
The Federal
Agency Administration provided 80% of the funding for the entire facility,
including the solar electric array.

Dane
County officials said the total installed cost of the airport was approximately
$300,000, or $3.00 per watt.
Dane County's solar array marks the eighth PV
array installed in Wisconsin this year with a rated capacity of 100 kW or greater
(see table below). With the exception of
Dairyland Power's solar array were driven, all the projects listed below are
either owned by a utility customer or are financially supported by
self-selecting customers. As of this
moment, solar generating capacity in Wisconsin totals 18 megawatts, which is
comparable to Minnesota's solar presence.
Customer-Supported Solar Generation in Wisconsin
Installation
Owner or Host

Dairyland Power Cooperative

Clean Energy Collective/VEC

Vernon Electric Cooperative
(VEC)1

Clean Energy Collective/VEC

St. Croix Electric
Cooperative3

Dane County Regional Airport

Energy Concepts/ Steiner
Electric

Barron Electric Cooperative4
1 Community solar garden supported by Vernon
Electric Cooperative owner-members
2 The 126 kW added this year raises the
overall capacity there to 146 kW
3 Community solar garden supported by St.
Croix Electric Cooperative owner-members
4 Community solar garden supported by Barron
Electric Cooperative owner-members
Links:
Photos of Dane County Airport's PV array and the
September 26, 2014, press conference.
Images of Dane County Regional Airport's new maintenance
facility.
https://www.flickr.com/photos/msnairport/sets/72157646736371339/
Wisconsin State Journal article (09-27-2014)