Thank you to all members who voted in our 2023 Board of Directors Election. RENEW Wisconsin's Board of Directors plays an important role in setting the strategic vision for the organization. All dues-supporting members of RENEW Wisconsin were invited to vote in this year's Board of Directors election. 
This year's election results include three incumbent board members, Josh Stolzenburg, Alicia Leinberger, and Eric Udelhofen, and two newly elected board members, Michael Troge and Victoria Soloman. All will soon begin a three-year term, helping us advance renewable energy in Wisconsin.
MEET OUR NEWLY ELECTED BOARD MEMBERS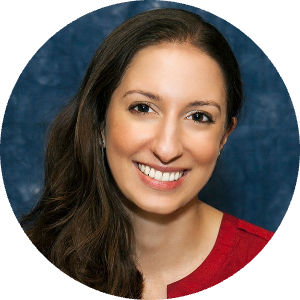 VICTORIA SOLOMAN
I am honored to join the RENEW Wisconsin Board of Directors. I'm highly interested in this organization and position because I understand that RENEW is a leader on advancing clean energy in Wisconsin. I want to support taking such action now for current and future generations across all of Wisconsin.
Areas where I seek to add value to the RENEW Board of Directors:
● Building bridges through education and facilitating common ground. In my role at UW-Madison Division of Extension, I am part of a cross-programmatic team working in communities across Wisconsin on climate change. I have experience with government, multi-sector leadership, and deliberative dialogue on topics such as climate change.
● Connection with diverse networks. Every day I work with decision-makers across sectors in rural, suburban, and urban communities. I work with community leaders across sectors, races, cultures, languages, geography, educational level, and political perspective at local, state, and national levels.
● Planning, measuring, and communicating. I am a certified planner with organizational, county, and regional planning experience. Additionally, as an associate professor, I evaluate my current educational programming using a variety of tools to tell the story of my educational and research work. This is consistently effective in connecting with the community across diverse sectors and perspectives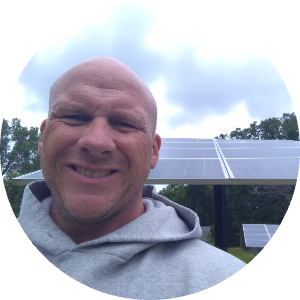 MICHAEL TROGE
My introduction to RENEW was at the 1999 MREA energy fair. Little did I know this would change the course of my career. It's been a fascinating ride full of ups and downs. The technologies are innovative, and the people are inspiring.
It's taken a while to find my niche in the industry. I'm fortunate to work for Oneida Nation, allowing me and the Energy Team the flexibility to build a concept that has led to PV & solar-thermal installs, a variety of energy studies, climate preparation, and most recently the planning and design of the Oneida Nation Health Campus Resiliency Project featuring a microgrid with 2 MW horizontal tracking array and 6 MWh BESS. I value working with an Indian Tribe that has a progressive nature driven by a history of hardship. Tribes across the country are so different, but they're all reaching for the same thing – their sovereign right to thrive. Energy is a big part of that.
I'm proud to be a founding board member of the Midwest Tribal Energy Resources Association (2014) devoted to Tribal energy development. It's grown to 20 member-Tribes. As a RENEW Wisconsin Board Member, I intend to continue to build those connections that encourage all organizations to partner toward a responsible energy future.
RENEW also recently welcomed Tonyisha Harris to our board, filling a mid-term board vacancy.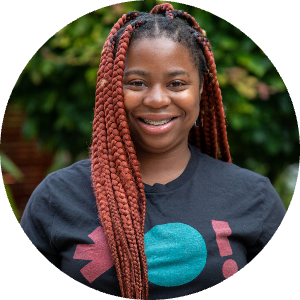 TONYISHA HARRIS
I am absolutely honored to join the RENEW Board of Directors.
As a member organization and communications point of contact of the Clean Economy Coalition of Wisconsin (CECW), I have the pleasure of collaborating with RENEW on advancing clean energy in Wisconsin. Working with Jodi Jean Amble and occasionally Sam Dunaiski is an amazing opportunity to learn the landscape and best communication practicies that resonate with Wisconsinites. Sending a video to the RENEW Summit was an awarding experience and I'm glad to have been invited to represent young people at the summit.
Areas where I seek to add value to the RENEW Board of Directors:
● Education: I led student-run campaigns at Loyola University Chicago, including but not limited to "A Place at the Table," a campaign geared towards making environmental organizations and activism more diverse and inclusive to students of color and non-environmental science/studies majors.
● Communications: As the Associate Director of Communications and Partnerships at ACE, I
excel at writing communications that resonate with young people, especially those with marginalized backgrounds and identities. This experience is critical to diversifying the membership and audience of RENEW.
RENEW BOARD OF DIRECTORS
Josh Arnold • Madison, WI
Mike Barnett • Madison, WI
Mike Cornell • Hartland, WI
Jim Funk • Winneconne, WI
Samara Hamze • Stevens Point, WI
Tonyisha Harris • Chicago, IL
Alicia Leinberger • Viroqua, WI
Mariah Lynne • Albert Lea, MN
Lauren Reeg • Boulder, CO
Amy Seeboth-Wilson • Platteville, WI
Victoria Soloman • Monticello, WI
Josh Stolzenburg • Wausau, WI
Michael Troge • Seymour, WI
Eric Udelhofen • Madison, WI
Ken Walz • Madison, WI
Don Wichert (DIRECTOR EMERITUS/Lifetime/Non-voting) • Madison, WI
Thank you for participating in the election and using your voice to help shape RENEW's future! And thank you to all candidates who offered their expertise and time to help our organization grow and thrive. 
RENEW Wisconsin
RENEW Wisconsin holds elections for our Board of Directors every year. If you or someone you know would like to be considered for our next election, please complete the short form linked below. Racial diversity and inclusion are a priority in our organization, and we strongly encourage people of color and other underrepresented groups to join us in advancing renewable energy in Wisconsin.