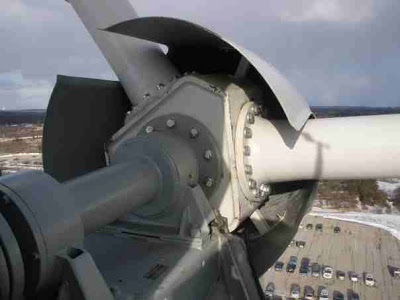 Jenny Heinzen, RENEW president and wind technology instrutor at Lakeshore Technical College, took this photo the V-17 wind turbine above the Mequon campus of the Milwaukee Area Technical College.
An article by Tom Kertscher in the Milwaukee Journal Sentinel reported on the turbine when it became operational:
Mequon – The largest wind turbine on a technical college campus in Wisconsin has been erected at Milwaukee Area Technical College in Mequon, where officials hope that what's been dubbed "Blades of Freedom" will reduce campus energy costs and help train students for sustainable energy jobs of the future.

The turbine, which at 160 feet high and 56 feet wide easily is visible from Highland Road, also is aimed at raising awareness among the public about renewable sources of energy, said Michael Townsend, vice president of the Mequon campus.
Facebook subscirbers can see more photos in Jenny's photo album.