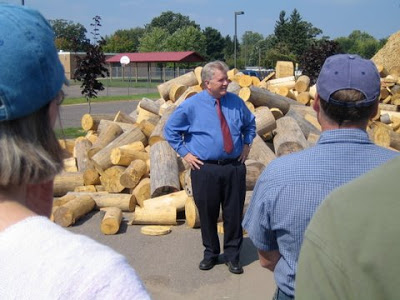 From a post by Margaret Krome in The Capital Times:
At Farm Progress Days this summer, other farmers told me that they also are interested in creating solar or wind energy, but their decision hinges on whether they receive a sufficient payback on their investment. The rapid and extensive growth of renewable energies in Germany, Denmark and parts of Canada is attributed overwhelmingly to a single policy addressing this concern, called "feed-in tariffs." (In Europe, the word "tariff" can mean "price.") This policy encourages small businesses, households, farms, towns – anyone – to produce renewable energy by providing a stable price for that energy at a rate that considers the actual costs of producing it. It's an obvious idea, but currently in most parts of the United States, utilities set widely varying rates for renewable energy – rates that seldom properly calculate the costs of producing it.
Wisconsin policymakers are on the verge of considering this and other policies to support renewable energy. Last week I joined the Homegrown Renewable Energy Campaign bus tour of four sites in northwest Wisconsin that illustrate ways communities and entrepreneurs can benefit from those policies.
We visited the bus garage for the Cadott School District, which converted its bus engines two decades ago to use compressed natural gas, which cut up to two-thirds off the district's transportation costs.
We saw a small electric vehicle whose manufacturer is located in Wisconsin and may be one of the few vehicle manufacturers with growing, not shrinking, demand.
Pete Taglia, a scientist with Clean Wisconsin, explained how one policy under consideration, a low carbon fuel standard, would set a market standard for energy sources with a lower lifetime carbon footprint, rewarding fuel manufacturers, distributors, and ultimately users.
We visited Barron High School, which for over 20 years has been heated – and now is also cooled – by burning wood chips. A fuels for schools policy would help other schools use nearby biomass similarly.
We also saw biomass research plots at the University of Wisconsin's Spooner research station. A proposed biomass crop reserve program would reward farmers for taking land that's vulnerable to soil erosion and planting it to longer-term and less-erosive biomass crops.
Wisconsin would be wise to support homegrown renewable energy. Avoiding fossil fuels can help reduce climate change. Renewable energy projects offer many opportunities to build new jobs. And, as Valerie Adamski said, "It's nice not to be in the hands of a foreign oil company."