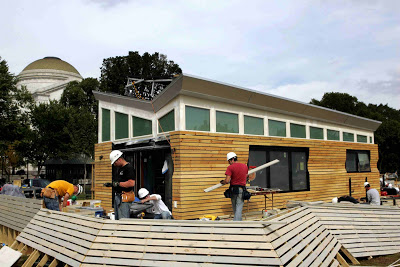 Students from the University of Wisconsin-Milwaukee assemble their solar-powered house in preparation for the start of the U.S. Department of Energy Solar Decathlon 2009 on the National Mall in Washington, D.C., Tuesday, Oct. 06, 2009.
From an article by Tom Content in the Milwaukee Journal Sentinel:
University of Wisconsin-Milwaukee architecture and engineering students have erected one of 20 buildings in a solar village that has risen on the National Mall in Washington, D.C.
Over the past two years, the students designed a small, energy-efficient solar home on campus, as part of the Solar Decathlon competition sponsored by the U.S. Department of Energy.
After being built on campus, the home was taken down in pieces and shipped to Washington, where it was put back together over the past week.
UWM is one of 20 teams selected to compete in the Solar Decathlon and is the first entrant in the competition from Wisconsin.
"We're excited about it," said Greg Thomson, assistant professor of architecture. "We're happy to be there. There's a big chunk of the Big Ten, and also teams that are made up of multiple universities."
The competition is international – with teams funded in part by the governments of Germany and Spain.
The UWM home – named Meltwater – features 28 solar panels producing electricity and two solar panels powering a hot water system. The name was chosen because its design was inspired by the power of the sun to melt the glaciers and create the Great Lakes.
The students and faculty involved in the project designed a home that would be comfortable in Wisconsin's climate.
The walls are extra thick and injected with more than twice the insulation of a typical Wisconsin home, Thomson said.
Photo by Stefano Paltera/U.S. Department of Energy Solar Decathlon