For the first time ever in Wisconsin, prospective home buyers have the option of purchasing a brand-new house with a solar array sized to offset 100% of household electricity use. A trio of Wisconsin companies broke ground this week on a residential development in New Berlin that will integrate rooftop solar arrays into all 34 residences built there.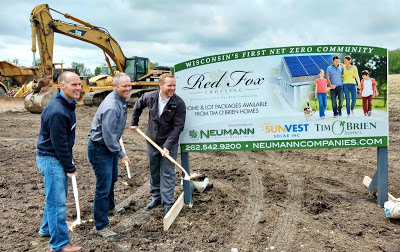 Representatives from Neumann Companies, SunVest Solar, and
Tim O'Brien Homes break ground on May 23, 2017 at Wisconsin's
first net-zero planned community.
Developed by Pewaukee-based Neumann Companies, the home sites at Red Fox Crossing, located on the southwest corner of S. Sunny Slope Road and W. Grange Ave., will be oriented to fully capture the solar energy available. Madison-based Tim O'Brien Homes will design and construct the solar-ready houses, and Pewaukee-based SunVest Solar will design and install each solar system, ranging from six to eight kilowatts.
Households that purchase a new house in Red Fox Crossing will finance the solar array through a 30-year mortgage with a 4% interest rate. As the tables below show, the power of long-term financing enables home buyers to reap substantial savings with the first monthly payment. Indeed, the return on investment for these solar arrays will range between 10% and 20% for the duration of the mortgage.
When fully built out, Red Fox Crossing will have between 200 and 260 kilowatts of behind-the-meter solar capacity in operation. It is on a path to become Wisconsin's first net zero (electricity) community.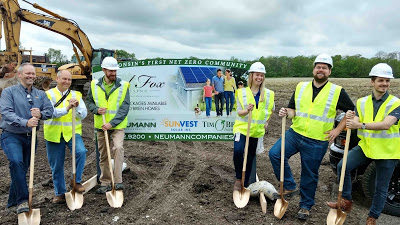 Members of the SunVest Solar team at the groundbreaking.
"It has always been our dream to offer an energy independent community," said Matt Neumann, principal of Neumann Companies. "We are excited to have all three companies involved in creating Wisconsin's first net zero community."
PRICING FOR A 7 KILOWATT SOLAR PV
SYSTEM

System Price

$21,000

Focus on Energy Rebate

Federal Tax Credit (30%)

Out-of-Pocket Cost*

$13,000
* after tax credits and rebate
$13,000 FINANCED INTO 30-YEAR
MORTGAGE AT 4%

Monthly Payments

$62/month

Solar Production Value

$98/month*

Monthly Savings

$36/month
* calculations based on We Energies current residential rates
According to a WTMJ-TV report, the Neumann team expects individual lots to be ready for permitting and construction sometime this fall, and the first home to be completed and generating electricity by next spring.
"Red Fox Crossing has the potential to be the turning point in building a more sustainable community and neighborhood in Wisconsin, versus focusing on only one home at a time," said Tim O'Brien, president of Tim O'Brien Homes.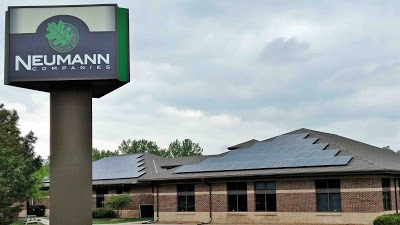 Neumann Companies' new office in Pewaukee, which also features solar panels on the roof.