On Saturday, September 14th, our 7th Annual "Ride with RENEW" bike ride, held in the Fox Cities this year, was a huge success!
We started the morning at Prairie Hill Park in Grand Chute with 40 determined bike riders and 12 wonderful young ladies from the Girl Scouts of the Northwest Great Lakes!  The State Representative for the area, Amanda Stuck, welcomed our riders by talking about the importance of energy, and how easy it has become to take advantage of clean energy sources.
Our bike riders and Girl Scouts then set out for the Bubolz Nature Center where we explored their solar panels and microgrid, built and operated by Faith Technologies, who walked us through this one-of-a-kind facility in Wisconsin. The microgrid includes a lithium battery, a hydrogen fuel cell, and a generator, and the facility runs off the solar panels and renewable storage most of the time.
Next we biked 10 miles to Evergreen Credit Union which has become a regional leader in sustainability. With solar panels covering its roof, Roni Kasperek of Evergreen described the credit union's migration to becoming a clean energy leader and how sustainability is a core value of the organization.
We turned Schildt Park into a clean energy mecca at lunch!  Featuring pizza from Glass Nickel Pizza, we were fortunate to have the Ripon Lego League join us as they collected data from our bike riders to help them with their Lego challenge of designing a sustainable community!  Our riders engaged in the Lego League's survey, created to help the kids better understand bikers' safety needs and how a city could better support bicycling.  The Lego League kids did a great job helping to serve lunch and engage with our bikers!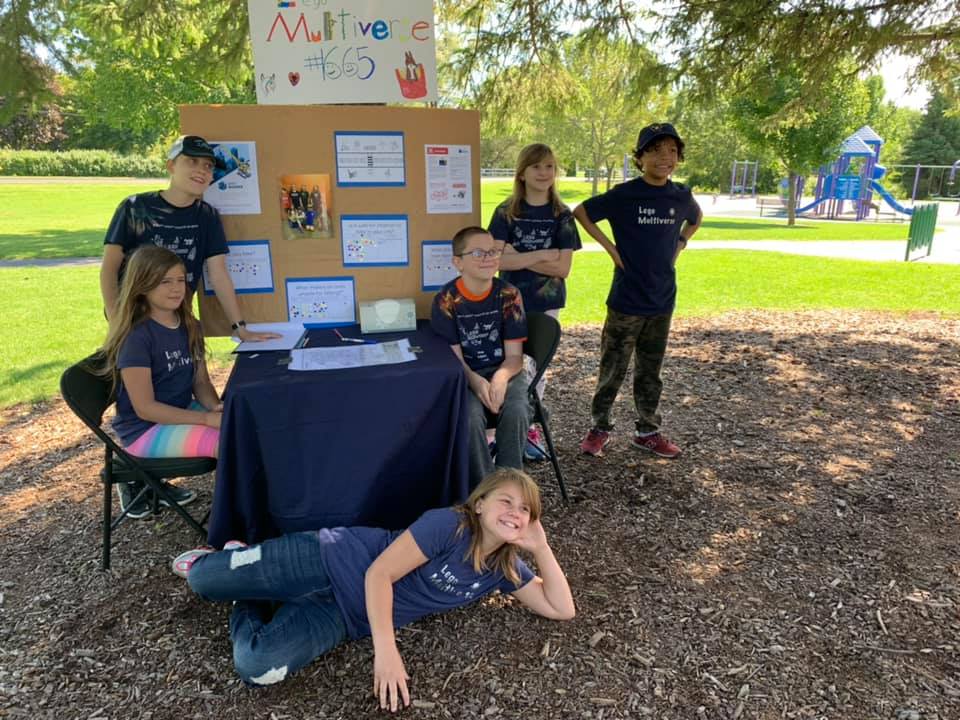 In addition, we had an electric vehicle exposition featuring 9 vehicles from 5 car brands that drive with electricity, instead of gasoline. This technology is advancing and many new types of affordable electric vehicles are coming out soon.  We loved showing these cars off to our bike riders and a few members of the public, and the vehicle owners loved chatting about how much they enjoy driving electric.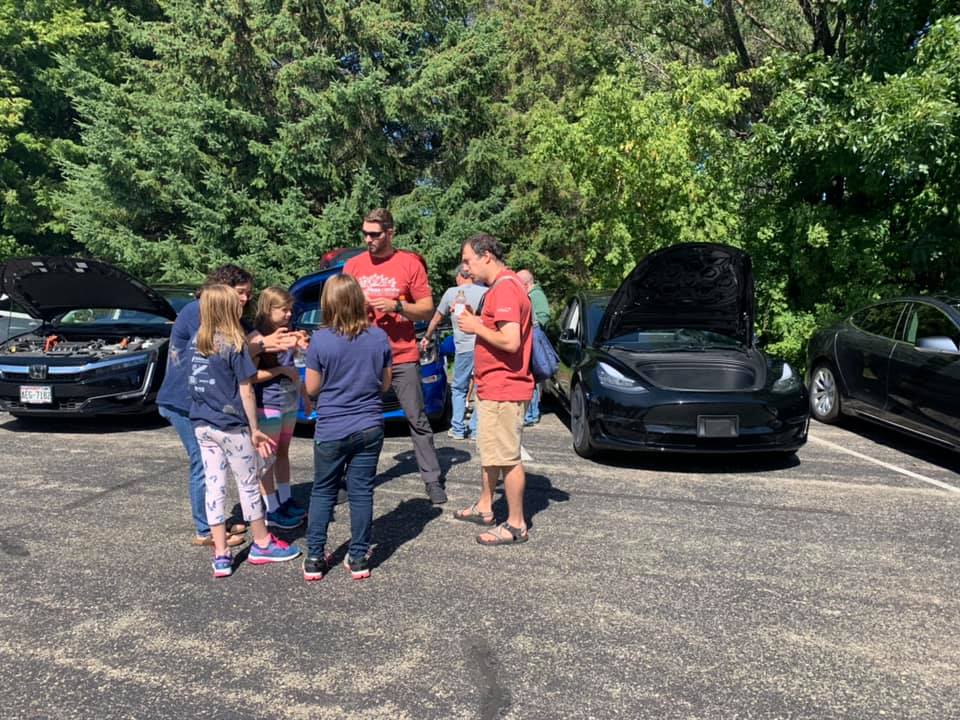 After lunch we saw small wind turbines at Essity (formerly SCA Tissue) right along the bike path.  These 4 turbines were designed and installed by a former Wisconsin company called Renewegy (which is unfortunately no longer in business).  Next we headed to Heckrodt Wetland Reserve in Menasha where we learned about their tremendous efforts to preserve this part of the state and how solar power is a sustainable part of their growth.
We next saw an innovative solar carport at the Petit and Dommershausen law offices in downtown Menasha, where were treated to a much-needed snack.  Then we biked to RiverHeath, which is a new development in Appleton right along the Fox River.  Mike Barnett of HGA described an innovative use of geothermal energy, designed by HGA and installed by G.O. Loop, that uses the temperature of the water to provide heating and cooling to the new buildings in the RiverHeath complex.
Last, but certainly not least, we biked to the first power plant in Wisconsin that delivered electricity to a customer. We were greeted by "Thomas Edison," a generous measure provided by the Appleton Historical Society, who helped explain the origins of the Vulcan Street Hydropower Plant which was put into service in 1882 and provided electricity for lights at paper manufacturing plants as well as one home.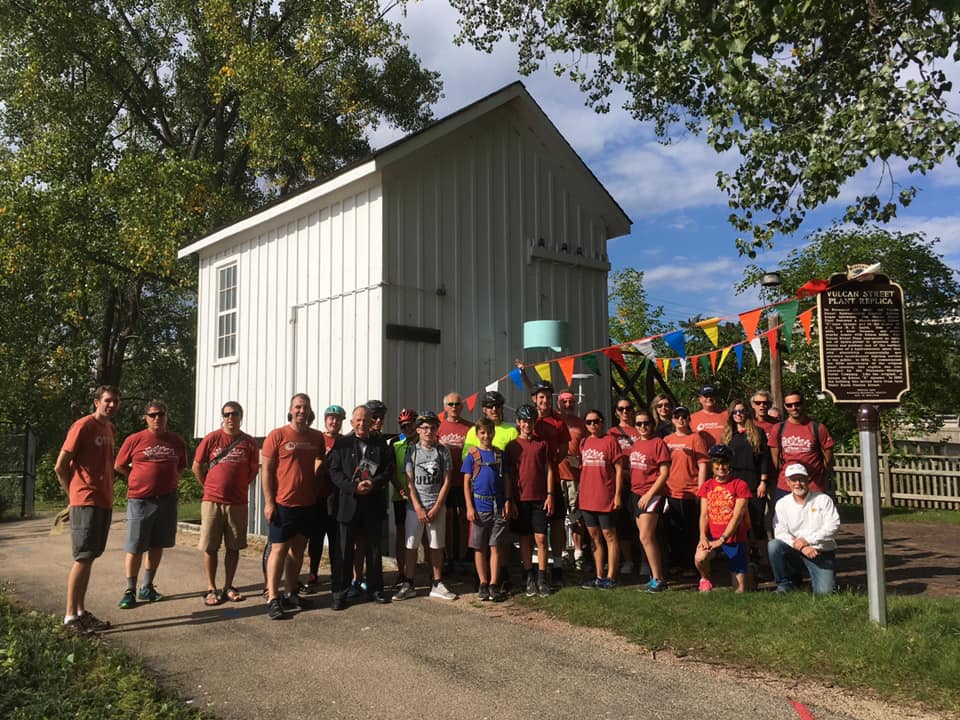 The actual Vulcan plant burned down in 1889.  The Appleton Historical Society, as well as Ford Motor Company, contributed many hours and, in Ford's case, equipment, to allow this replica of the original hydropower plant in Wisconsin to stand and to give visitors like us the opportunity to learn about Wisconsin's energy history and see it in action.
Finally, we arrived back at Prairie Hill Park, where we enjoyed beer from Central Waters based in Amherst and celebrated a great event with our riders!  The weather was outstanding, and we can't wait to plan next year's Ride with RENEW.
Four of RENEW staff members joined Board member Jim Funk of Energize LLC as he showed off one of Wisconsin's earliest examples of "bi-facial" solar panels – panels that can receive light from both sides of the panel to create electricity.  This installation at a carport has served as a beautiful visual example of solar energy in the Fox Cities since 2010.  For example, check out the very cool design when our staff member Jim Boullion's car was parked underneath the panels.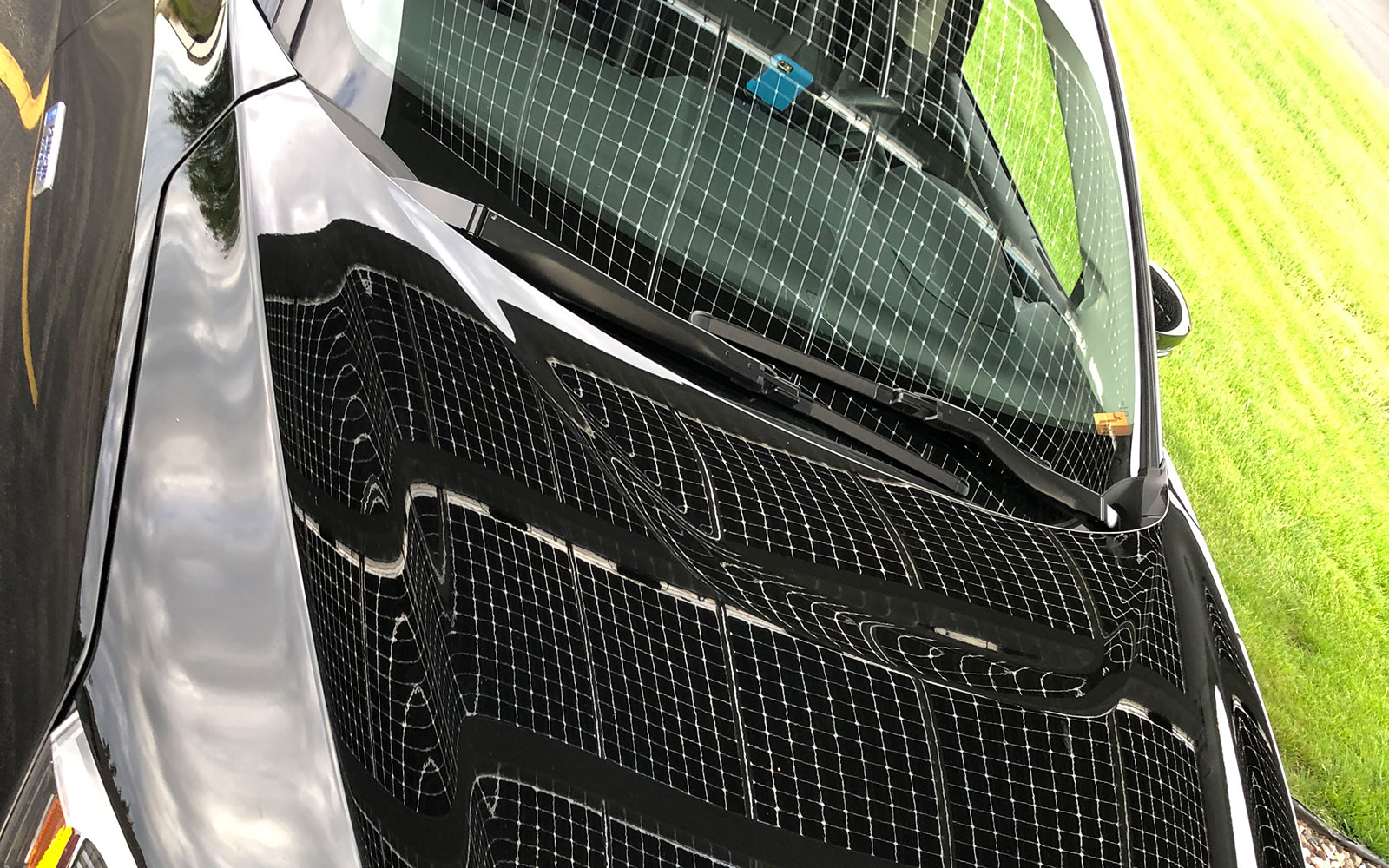 Check out our Facebook photo album to see more images of the ride!
Thank you again to all of our sponsors, shown below, all the bike riders, the Girl Scouts, Lego League, and everyone who donated to support our riders and helped us raise over $17,000 to continue our education, advocacy, and collaboration to advance renewable energy in Wisconsin!
2019 RIDE WITH RENEW SPONSORS