By Katherine Klausing, Engagement Manager
Wisconsin's businesses are leading the way on solar, and they're encouraging their colleagues do the same. That was the message last week in Onalaska, as RENEW Wisconsin's Tyler Huebner convened a panel at the Wisconsin Sustainable Business Conference.
RENEW Wisconsin brought together executives from Gundersen Health System of La Crosse, Reynolds Transfer of Madison, and Phillips Medisize of Phillips to talk about how investing in solar energy has helped their companies save money and meet their sustainability goals.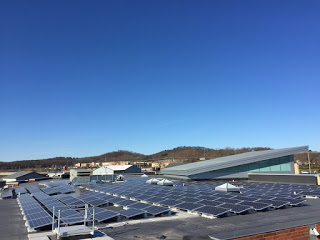 Gundersen Health Systems' Sparta Clinic
Photo credit: Gundersen Health Systems.
Gundersen Health Systems' Alan Eber explained that his company is able to save significant costs by building its clinics to use about half as much energy as a typical healthcare facility. "We take the architecture guidelines of 2030 and apply them today," said Eber, explaining how this results in much lower costs over the life of its buildings. "For us, it's all about reducing waste." Gundersen has invested in a 100kW solar array on top of its new clinic in Sparta. To meet its full commitment to energy independence, the company will also buy the output from 220kW of Xcel Energy's shared solar array under development. Gundersen Health Systems has been recognized as RENEW Wisconsin's Energy-Independence Enterprise of the Year.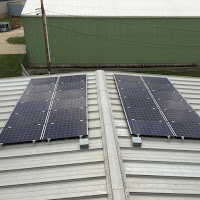 Reynolds Transfer and Storage's solar
array. Photo credit: SunPeak.
Ben Reynolds of Madison-based Reynolds Transfer and Storage also shared his positive solar experience with the crowd. Reynolds, a sixth-generation member of the family-owned business, led the procurement and installation of 48kW of solar on the company's two warehouse facilities in Madison. Reynolds estimates that the solar array will save them about $7,500 every year, not including the money the company has saved by converting some of its power load from gas to electricity and timed its use to capitalize on the solar panels' production. Read more about Reynolds Transfer and Storage's solar project here.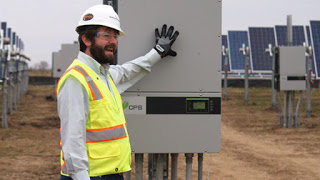 Jonathan Roberts of SoCore Energy shows off Dairyland
Power Cooperative's latest solar array, located near New Richmond.
Photo credit: SoCore Energy.
Dan Andersen of Phillips Medisize explained that his company took a different approach. The medical device manufacturer's leaders looked into installing solar on-site, but decided they liked the ease and simplicity of investing in a shared solar array. So Phillips Medisize will buy a portion of its power every month from two new community solar arrays built in New Richmond and Eau Claire.
The Milwaukee Journal Sentinel's Tom Content kicked off the session by sharing new national polling showing the vast and diverse support that renewable energy garners nationwide. Polling conducted by Public Opinion Strategies immediately following the November elections found that 76% of Americans support installing more solar energy.
The fact that solar energy is so popular should be of interest to businesses considering solar, pointed out RENEW's Huebner. "Businesses that invest in solar and renewables are on the correct side of the citizens and therefore customers, suppliers, and employees."