RENEW Wisconsin, together with a coalition of Clean Energy Advocates (Clean Wisconsin, Environmental Law, and Policy Center, Vote Solar, The Nature Conservancy, Wisconsin Conservation Voters, and the Wisconsin Health Professionals for Climate Action), submitted comments this week to the Public Service Commission in favor of protecting and improving net metering in Wisconsin. 
The Commission asked for remarks on four key questions and shared a 60-page memo from the Regulatory Assistance Project describing net metering policy issues, changes to net metering in other states, and several other aspects for consideration. The comment period closed on Tuesday, March 22, 2022.
Wisconsin's customer-owned solar market is falling behind our neighboring states due to a patchwork of service terms and artificial market barriers. Our coalition comments highlighted several key factors contributing to the issue:
The absence of a statewide net energy billing policy has fostered an inconsistent and confusing patchwork of tariffs across Wisconsin.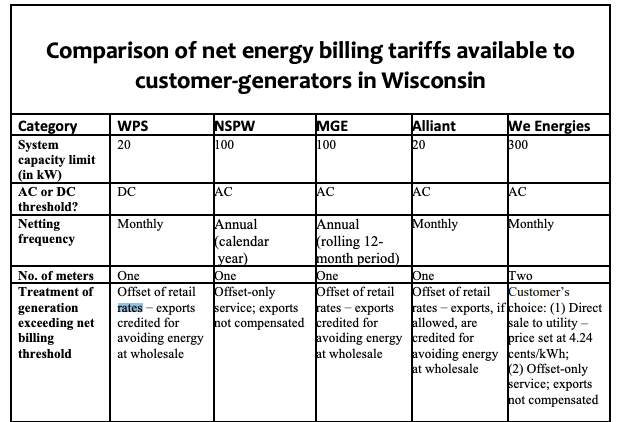 2. Low net energy billing ceilings and low export rates effectively exclude many larger customers from investing in solar systems.
3. Encroachment of utility-owned DG reduces behind-the-meter installation opportunities for customers and solar contractors.
4. The lack of clarity over third-party financing hampers the solar marketplace.
Solar installers, solar customers, clean energy advocates, and climate activists submitted comments echoing these themes. Here are some quotes from the commenters: 
"The time has come for the Wisconsin Public Service Commission (WiPSC) to take a customer-centric approach to address the need for dramatic greenhouse gas emission reductions."
Kerry Beheler and Gary Radloff
Wisconsin GreenFire
"Larger commercial and industrial customers should be allowed to net meter on larger projects that help them displace a greater percentage of their usage with on-site renewable generation. Adjacent states have raised net meter limits above 1000 kW for these customers. State goals of increased renewable energy are efficiently met with an on-site generation that is offsetting load, and this also possibly reduces the need for additional transmission infrastructure.  Net metering is one good tool encouraging on-site renewable generation."
Weselley Slaymaker
"I support a robust net metering policy for Wisconsin.  The adaptation of solar power is critical for our energy independence and to mitigate the impact of climate change."
Megan Stansil
RENEW and its allies explained their priority to improve net metering in the near term to "make net billing tariffs more consistent across Wisconsin utilities." But we also urged caution that no other reform that could diminish customers' value proposition for investing in these grid-beneficial technologies should be pursued before reaching much higher solar penetration levels and analyzing the impact of such potential changes.
Net metering is a valuable tool that helps customers generate their energy in a manner that provides both system and public benefits, including carbon emission reduction and economic development. It drives solar deployment and is easily understood and accessible to customers. RENEW will continue to participate in this conversation at the Commission and share results as this process moves forward. Wisconsin can improve customer transparency with a more uniform statewide approach but should be very cautious about risking the benefits of distributed generation by altering rate design.