On October 13, RENEW Wisconsin and Wisconsin Conservative Energy Forum (WCEF) hosted their first-ever Renewable Energy Day at the Capitol in Madison. The event included issue briefings by industry experts on a variety of legislation that has been introduced this year related to the solar and electric vehicle industries. Attendees then went to the State Capitol to speak with their legislators to gain support for these important issues.
During a welcome reception, the evening before the Day at the Capitol,  RENEW and WCEF held a panel discussion "Energy in Transition: Policy and Politics."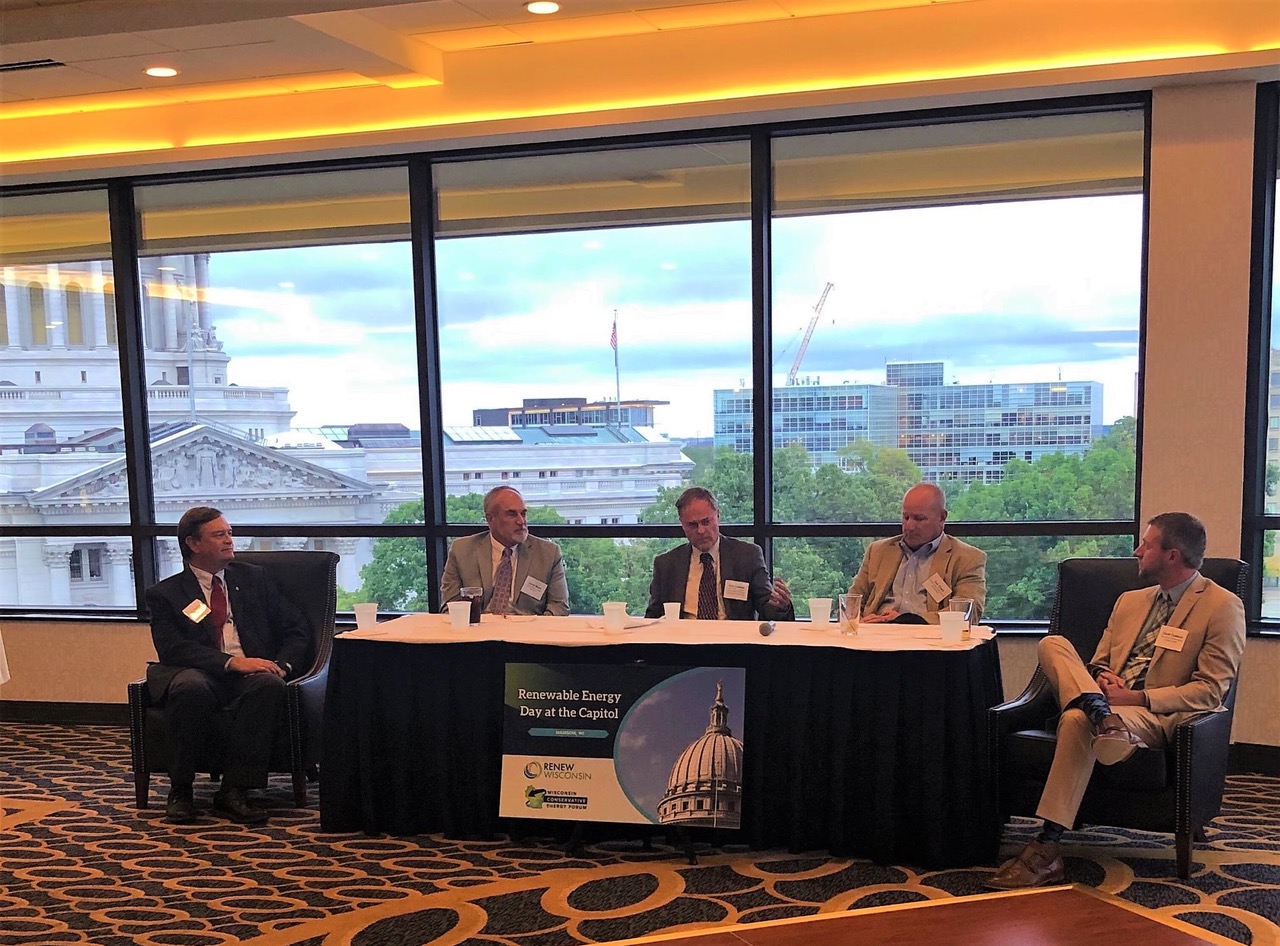 From right to left were moderator, Scott Coenen (WCEF), Dan Ebert (former PSC Chairman), Senator Rob Cowles, Larry Ward (Conservative Energy Network), and Jim Boullion (RENEW Wisconsin).
The panel discussed the current uncertainty in world energy markets and the impact that energy shortages and spiking prices will have on the world. There was consensus from the conversation that panelists believe renewables can help stabilize much of this energy uncertainty, but that the industry needs to be realistic about its role in a world where supply is not meeting demand. Businesses, households, and communities in Wisconsin should be empowered to invest in their own energy generation. 
Before attendees went to the Capitol to meet with their legislators, there was an issue briefing with a panel of industry experts moderated by Jim Boullion, Director of Government Affairs for RENEW Wisconsin. The panelists explained in detail what legislative proposals were currently before the legislature, how they will impact renewable energy in Wisconsin, and what arguments are being made on both sides of the issue.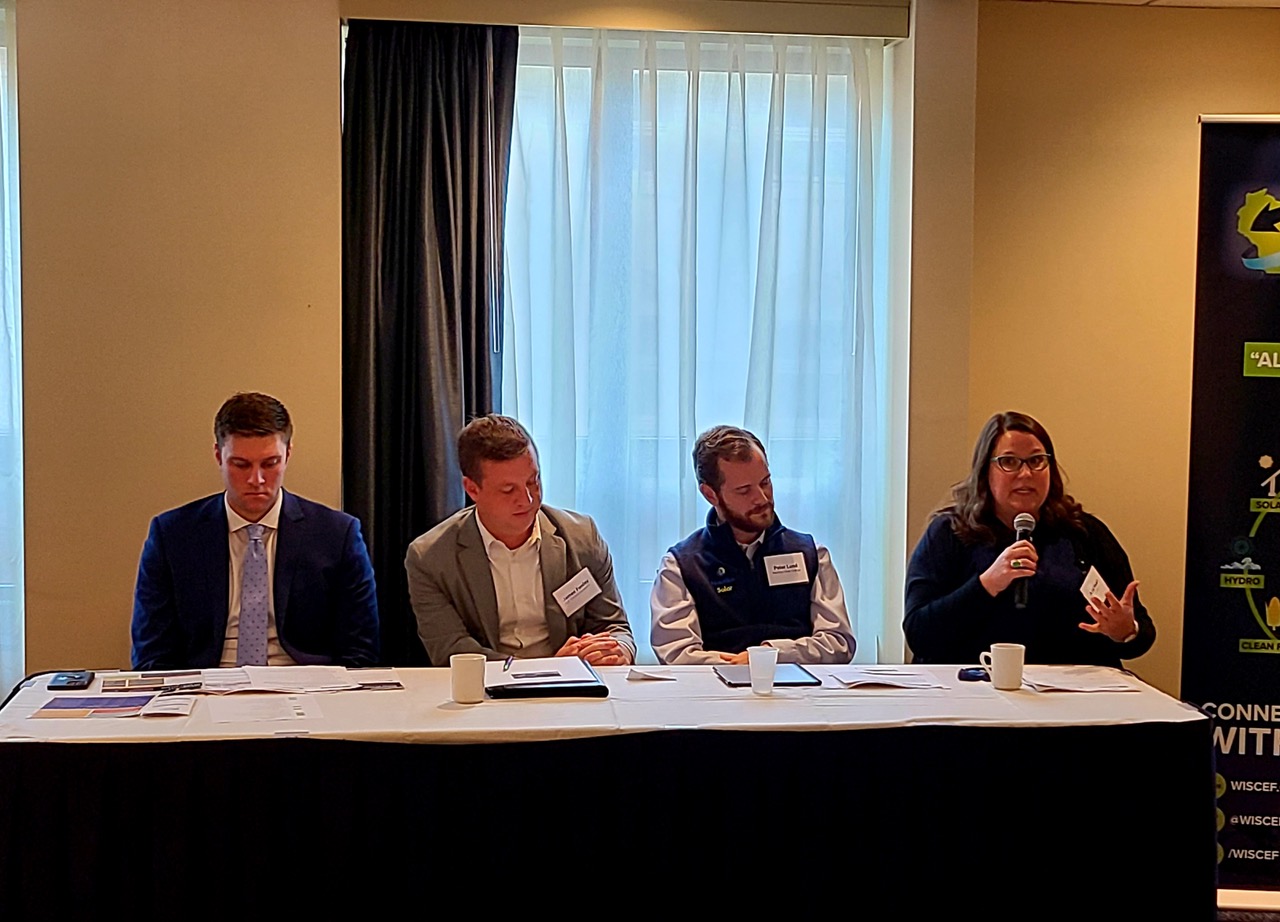 Issue briefing panelists, Left to right: Jason Mugnaini (Chief of Staff, State Senator Rob Cowles), James Fenley (SJL Government Affairs & Communications), Peter Lund (Financial Structuring Associate, Nautilus Solar Energy), and Amy Heart (Senior Director, Public Policy, Sunrun).
The first panel discussed two solar-related issues: 
Expanded Development of Community Solar

– (

SB 490

/

AB 527

– Sen. Stroebel and Rep. Ramthun

)

 

This bill would authorize the development of non-utility owned community solar projects and provide access to the economic and environmental benefits of solar for those who can't afford the full cost of a system, live in multi-family housing, or own property that is not suitable for solar. 

3rd Party Financing/Leasing

– (LRB 1550/1 Sen. Cowles and Rep. Cabral-Guevara)

This legislation would clarify that 3

rd

party financing/leasing of renewable energy equipment is legal in Wisconsin, providing affordable financing options for people, businesses, municipalities, or not-for-profit entities who don't have the resources to pay for solar on their own property.
The second panel, moderated by RENEW's Jeremy Orr, Emerging Technology Program Manager, discussed electric vehicle issues such as Wisconsin's recent Direct Electric Vehicle Sales legislation, SB 462 / AB 439  (Sen. Kooyenga and Rep. Neylon).  Albert Gore, Policy and Business Development at Tesla, discussed how allowing manufacturers to sell electric vehicles directly to consumers creates greater access to the electric vehicle market, resulting in growth in the traditional dealership model. Read Jeremy Orr's previous testimony on this issue here.
Likewise, Justin Ackley, Public Policy Manager at ChargePoint, spoke to the business clarity and consumer transparency that AB 588 / SB 573  (Sen. Cowles and Rep. VanderMeer) would provide, as it would allow non-utility-owned charging stations to charge by the kWh. Similar to a gas pump, where the price per gallon is displayed, kWh charging tells electric owners how much energy they're paying for, regardless of how long it takes to charge their vehicle. The panel pointed out that while the main goal of this legislation is good, another section of it would create problems by prohibiting charging a fee if any of the electricity going through the EV charger comes from a non-utility source such as a solar+storage system.
Emerging technology allows EV chargers to be installed in areas, especially rural areas, that have inadequate grid infrastructure and can help limit costly spikes in energy "demand charges" for charging station owners. EnTech, a division of Faith Technologies based in Menasha, Wisconsin brought one of their portable solar+storage units to Capitol Square to demonstrate how the technology works and how flexible it can be. A similar system was set up at  Bergstrom Ford in Neenah to help reduce the energy bills at their dealership. John Bergstrom, the owner of the dealership, told the story of why he worked with Faith Technologies to install the system in this podcast.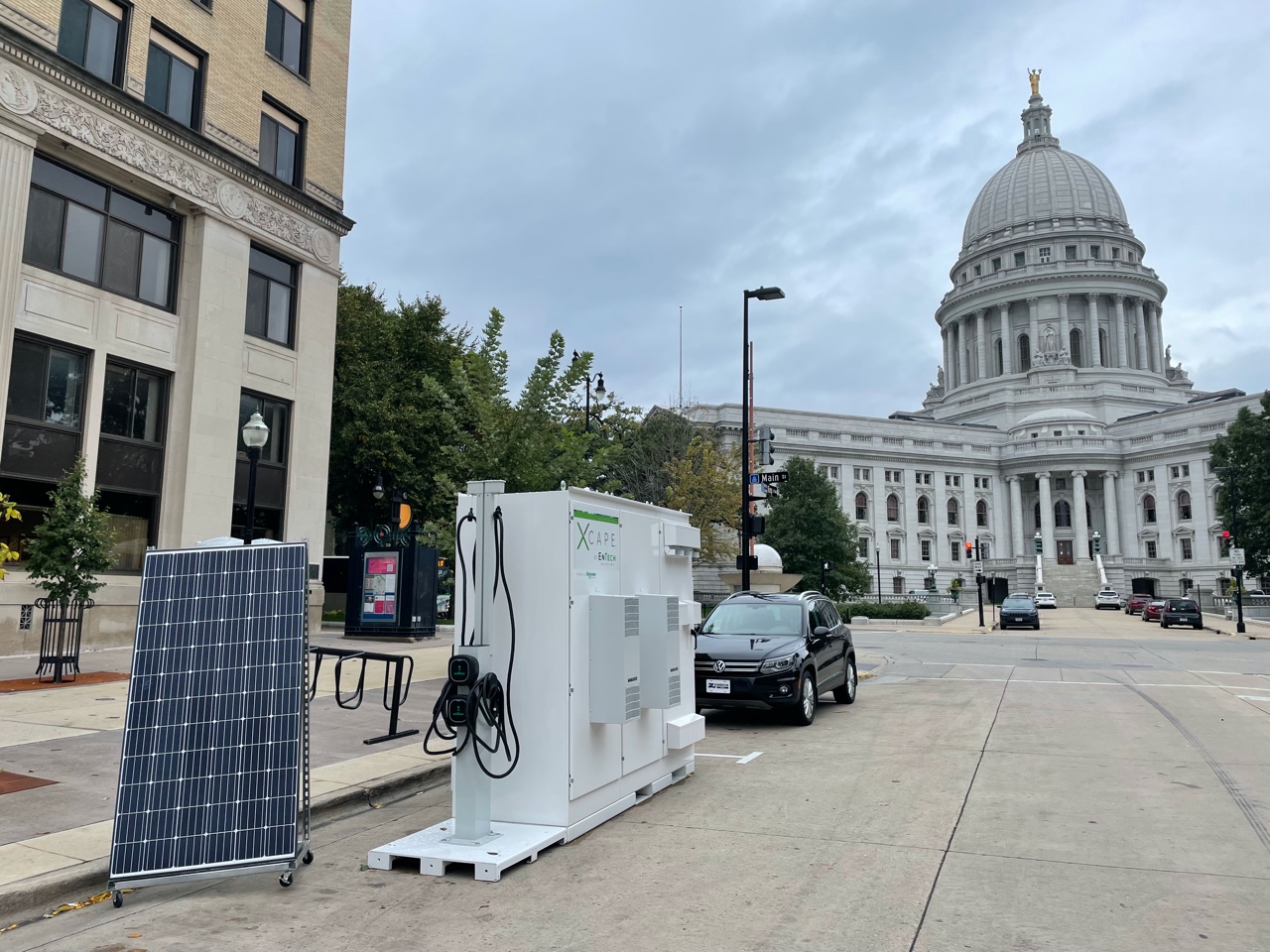 The panel closed the session by discussing two other bills recently introduced by Sen. Rob Cowles:
$10 million in VW Settlement Funds for EV Charging Station Grants – (

LRB-0254/1 Sen. Cowles and Rep. VanderMeer)

Grants from these funds would be used to install electric vehicle charging stations at key locations throughout Wisconsin.

Energy Storage Sales Tax Exemption –

(LRB-1513/1) – Sen. Cowles and Rep. Duchow)

This legislation would c

larify that battery storage devices installed as part of a renewable energy system should be included in the sales tax exemption that already exists for renewable energy system equipment.
The 75 registered attendees made an impact by taking time out of their busy lives and getting involved in the political process. None of these issues will be easy to pass. In fact, most of them face significant opposition from powerful forces. But working together and building coalitions with pro-renewable energy friends helps get important legislation like this adopted.  
If you would like to learn what you can do to help as well, contact Jim Boullion, Director of Government Relations at jim@renewwisconsin.org.