Federal clean energy and climate investments are more crucial than ever. Congress must deliver a deal that includes clean energy investments in the Build Back Better Act.
This is a make-or-break moment to shore up the electric grid and help accelerate renewable energy and energy efficiency adoption in the U.S.  These investments will make the difference between leading the global clean energy economy or lagging behind the rest of the world.
According to the Solar Energy Industry Association, the Build Back Better Act would drive $234 billion into the economy over the next four years and require at least 450,000 workers to get it done – double the size of today's solar workforce!
In the last few weeks of 2021, the Build Back Better Act (Biden's flagship climate and clean energy proposal) hit roadblocks. Regardless of the political stalemate, the critical importance of the Act's clean energy and climate provisions cannot be overstated. As Stewart MacKintosh wrote in The Hill, "Achieving global climate change goals depends on the U.S. starting to implement Biden's net-zero carbon emissions plan today- not two (or god forbid) four or more years from now. We have no extra time."
The Build Back Better (BBB) Act is the third and most ambitious part of Biden's original Build Back Better plan, including COVID-19 economic relief, social services, welfare, and infrastructure. Significant portions of the agenda were signed into law with two bills in 2021, The American Rescue Plan Act (March 2021) and the Infrastructure and Jobs Investment Act (November 2021).
BBB is the most powerful tool the Federal Government has in play to curb U.S. emissions and reach the climate and clean energy goals established in the Paris Agreement. BBB provisions would mobilize billions of dollars to expand access to clean energy and electric vehicles, improve the efficiency of buildings, electrify heating and cooling, support American clean energy industry growth, and help American manufacturers and other businesses reduce energy use and emissions. BBB also contains funding for social infrastructure, environmental justice investments, natural climate solutions, and rental assistance.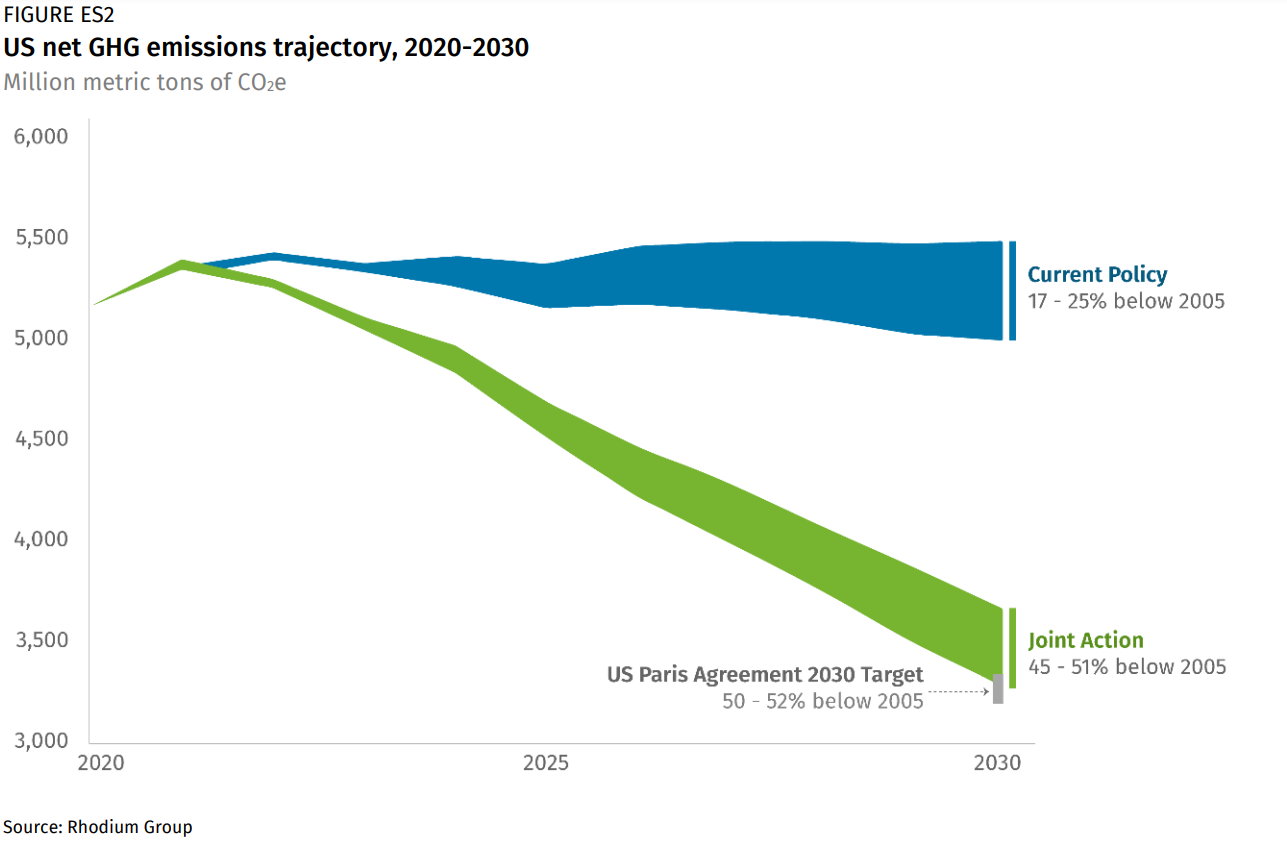 Image/Figure from https://rhg.com/research/us-climate-policy-2030/
This figure from the Rhodium Group shows that "Joint Action" can reduce emissions by 50% below 2005 levels. Joint Action refers to the collective impact of legislation adopted in 2021, BBB climate and clean energy provisions, and state and local action. BBB is the most critical element in this suite of actions and will accelerate clean energy adoption, save money for consumers, and reduce emissions.
Businesses and Workers Support Build Back Better
Last summer, Wisconsin businesses signed a letter calling on Congress for ambitious clean energy investments.   Since that time, an increasing number of companies and organizations have signaled their support for clean energy investment to drive jobs and economic activity.
West Virginia coal miners called on Joe Manchin to support Build Back Better.
Provisions in the bill would support miners dealing with Black Lung Disease, provide incentives to develop clean energy projects on closed mines, and support the right to unionize.
400 companies signed a letter calling on lawmakers to pass Build Back Better. 
"The climate components of the Build Back Better package are both fiscally responsible and critically needed to ensure a stable climate for businesses and communities, help companies save money with affordable clean energy, and strengthen U.S. competitiveness by building upon the important measures in the infrastructure package that passed Congress this fall," said Hugh Welsh, president and general counsel, DSM North America.
Wisconsin's solar installers, in particular, recognize that Build Back Better will provide greater access to clean energy, especially for farms and low-income families.
"The extension of the business and residential tax credits for solar are critical for our industry. But adding refundability to both 48C and 25D is a game-changer for low and moderate-income households, farms, and other entities that don't have the tax liability to realize the normal tax credits and finally enables them to go solar. It has the potential to bring the equitable distribution of the benefits of solar to millions." Josh Stolzenburg, CEO Northwind Solar, Amherst, Wisconsin.
Contact your senator today and ask them to support climate and clean energy provisions of Build Back Better. There is no time to waste.