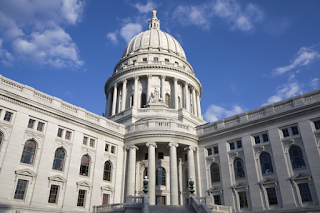 A press conference was held yesterday at the State Capitol to announce the launch of the Wisconsin Conservative Energy Forum, a right-leaning, state-based voice for clean energy.
Headlined by Former Governor Tommy Thompson as a Board Member, the group plans to articulate a positive narrative on clean energy, emphasizing its emergence as a cost-effective source of new jobs and business opportunities.
Scott Coenen, a former staff person for State Senator Howard Marklein, is the group's Executive Director.
As reported by the
Milwaukee Journal Sentinel
, "Scott Coenen, the group's new executive director, insisted the group would be focused not on lobbying for bills but on converting Republicans to the potential benefits — and jobs — coming from technologies such as solar and wind power."
"Conservatives need to emphasize the development of cheap, reliable and cost-effective energy," said Coenen, a former aide to GOP Sen. Howard Marklein of Spring Green. "To do that, we need to recognize that advances in technology increasingly mean renewable and alternative energy fits that description: cheap, reliable and cost-effective."