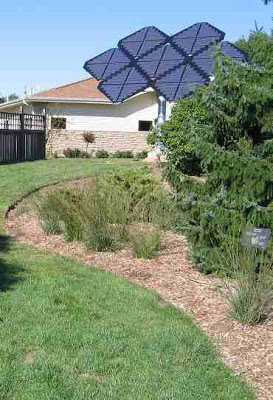 From a story by Avrum Lank in the Milwaukee Journal Sentinel:
Sturgeon Bay – John Hippensteel believes a person has only one original idea in a lifetime.

His can be summed up in two words: flower power.

Not the kind expressed in bright splashes of color on psychedelic concert posters or daisies put down gun barrels during anti-war demonstrations, but actual power from flowers.

OK, not real flowers. Rather from sculptures that look like flowers – and rather unusual sculptures at that.

A professional engineer, Hippensteel designs, builds and installs large arrays of photovoltaic solar panels made to look like flowers. He hopes the product line he and wife, Ann, have dubbed Solar Flairs will be the key to a blossoming of their business, Lake Michigan Wind and Sun Ltd., which they run out of a 100-year-old farmhouse on 40 acres near the Lake Michigan shoreline in the southern Door County Town of Clay Banks.