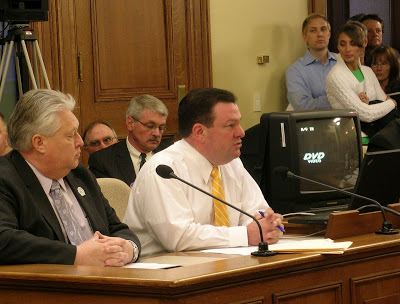 State Senator Jeff Plale (right) of Milwaukee testifies in support of identical companion bills (Senate Bill 185 and Assembly Bill 256) that he co-authored with State Rep. James Soletski (left). The bills direct the Public Service Commission to begin a process to set state-wide uniform standards for wind project permitting.
From an article by Paul Snyder in The Daily Reporter:
In addition to missing out on an estimated $3.5 million of economic opportunity for each wind turbine not built in Wisconsin, the state also is missing out on new energy without uniform standards.
"We're looking at about 600 megawatts of stalled energy right now," said R.J. Pirlot, director of legislative relations for Wisconsin Manufacturers & Commerce.
State Sen. Jeff Plale, D-South Milwaukee, author of the statewide wind farm siting bill and chairman of the Senate Committee on Commerce, Utilities, Energy and Rail said the inactivity is disappointing.
"That's a lot of missed opportunity," he said. "And it's a sad commentary for this state when we're out there saying we want more renewable energy."
RENEW Wisconsin's executive director Michael Vickerman also testified.