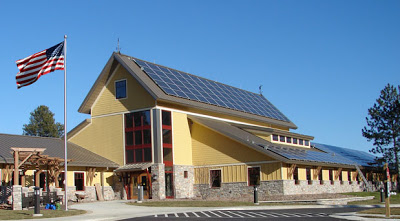 A news release from Dairyland Power:
Dairyland Power Cooperative and Oakdale Electric Cooperative collaborate on installation
NECEDAH, WI— Dairyland Power Cooperative and one of its 25 member cooperatives, Oakdale Electric Cooperative, have collaborated with the Necedah National Wildlife Refuge to help bring renewable energy to area homes and businesses via a solar project on the Refuge's Visitor Center.
The new Necedah National Wildlife Refuge Visitor Center is a state-of-the-art energy efficient facility featuring a 46 kilowatt photovoltaic array (solar system). The solar system was funded through the American Recovery and Reinvestment Act. The Refuge also features an interactive
display on solar-powered energy at the visitor center as part of its environmental education programming.
"It has been great to work cooperatively with the Refuge on a sustainable, renewable technology that benefits the environment," said Bruce Ardelt, General Manager, Oakdale Electric Cooperative. "We support a variety of renewable energy projects by interconnecting to distributed generation resources such as this solar unit, and are very pleased to see this project at completion."
Dairyland has a power purchase agreement with the Necedah Refuge to buy all the renewable energy produced through the solar installation for distribution to cooperative members through Dairyland's Evergreen program. Therefore, the renewable energy generated at the refuge ultimately helps power the homes and businesses in the region. The Necedah Refuge is a member of Oakdale Electric Cooperative, which provided electrical transmission interconnection to the solar project.
Evergreen is Dairyland's renewable energy "green power" program. Supporting Evergreen is an ideal option for cooperative members who want to do more to preserve the environment and promote the growth of renewable energy generation. Dairyland's diverse portfolio of renewables includes hydro, wind, biomass, landfill gas, cow manure digesters and solar.
A grand opening event for the Necedah National Wildlife Refuge's Visitor Center is being held on Saturday, April 30. For more information, see www.fws.gov/midwest/necedah.
With headquarters in La Crosse, Wis., Dairyland provides wholesale electricity to Oakdale Electric Cooperative and 24 other member distribution cooperatives and 16 municipal utilities in four states
(Wisconsin, Minnesota, Iowa and Illinois). Dairyland's generation resources include coal, natural gas, hydro, wind, landfill gas, solar and animal waste. For more information, please visit http://www.dairynet.com/.
Photo courtesy of the Necedah Wildlife Refuge.