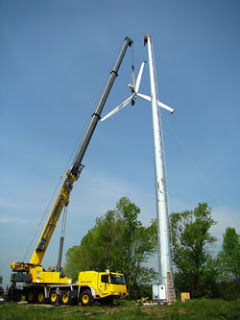 A 50 kW Entegrity wind turbine is installed May 26 on Lakeshore Technical College's Cleveland campus. The turbine was made operable June 8 and is visible from I-43.
From a news release issued by Lakeshore Technical College:
A second wind turbine is up and running on Lakeshore Technical College's Cleveland campus, providing additional opportunities for student training and field testing, as well as energy savings for the college.
The 120-foot, 50 kW Entegrity turbine is located just northwest of the LTC Flexible Training Arena. It was installed May 26 with the help of Seventh Generation Energy Systems, and was made operable June 8 following final interconnection tests and inspections by We Energies.
The Entegrity is expected to produce between 75,000 and 91,900 kWh annually — slightly more than the Vestas V-15 turbine, which was erected on campus in 2004. A third turbine, a 50 kW Endurance, will be installed at LTC later this summer.
"The main point of the project is the head-to-head comparison of these three models for energy production, maintenance costs, installation costs and other factors," said Doug Lindsey, LTC's dean of Trade and Industry. "We Energies has a strong interest in providing consumer-level field test data on these turbines."
Regular maintenance on the Entegrity will be performed by second-year students in the Wind Energy Technology associate degree program.
While the two existing turbines — the Vestas and the Entegrity — are similar in size, Wind Energy Technology Instructor Jenny Heinzen said individuals visiting or passing by the campus will notice one key difference.
"The Entegrity is a downwind machine, which means it operates with its blades facing away from the wind," Heinzen said. "Because the Vestas operates by pointing into the wind, the two will appear to be positioned in reverse directions while operating simultaneously."